Home » Geocaching
Another Caching Weekend – Caches No's 553 – 571
11th June 2010 – Too Good To Be True? GC1PC37 – Cache #553
A puzzle cache with more red herrings than a communist fishing boat, that purports to be an ammo can contain a black book with all the answers to the puzzle caches in the area, I had sorted out the co-ordinates the week before and had had a brief look at the cache site, but because it is in a local beauty spot and not on the path I hadn't searched for the cache as there has been disturbance of the area in  the past and the cache page has been updated to as people to be respectful of the site. So I emailed the last person to log the cache to ask whether the cache was still in the place described by the hint, as their log described an exaggerated search for it… They replied that it was still easy to find, and indeed it was. (It wasn't an ammo can though ! and had no black book in it – not that I really was expecting it to !)
11th June 2010 – Dudley's blueberry patch GC1CQEN – Cache #554
It was one of those evenings when things don't go quite to plan, I had taken out my PDA with memorymap, only to find that somehow it had  been left switched on and the battery was completely flat. Fortunately I had my Garmin with me and that got me up onto the moors to the  general location of the cache, but without the PDA I had no description or hints to help me find the cache once I had got to a spot full  of rocks and vegetation.
So I got my phone out and there was no 3G signal, however I did have the caches stored on the memory card in the phone so I fired up the Geobeagle application to read them, and found that as I had updated the application I needed to reinstall them all from the card, which took forever, well probably only 4-5 minutes, but as the phone battery was mysteriously also flat as well I was concerned that it wouldn't last !
Eventually i got the thing working and looked at the descriptions and hints for the next couple of caches I intended to find and this one… the hint for this one said under a big rock… which turned out to be the rock I had been sat on for the last ten minutes trying to get the technology working !

11th June 2010 – Coat of Arms on Rock GC1HQQP – Cache #555
I debated going further up the moor to the next cache, which was 2/3rds of a mile away, but decided that I would leave that one for another day (easier tackling it from the other side of the moor anyway ! and headed down towards the town to find this cache. The coat of arms is a carving done many years ago, either late 1800's or early 1900's can't read the date on it anymore and was easy to find, I had looked up the hint so the cache was easy to find too.

11th June 2010 – Historical Ilkley GC1Q5MR – Cache #556
This is a puzzle cache that leads you through Ilkley gathering clues to get the co-ordinates, I have to say that I didn't bother looking for all the co-ordinates as I could guess at some of them, but I did go round some parts of Ilkley that I have never been to before even though they are central and I have lived 6 miles away for nearly 45 years.
The cache itself was a little difficult to find being hidden inside the hollow roots of a large tree, but well hidden inside there.
12th June 2010 – The Lost Train GC1DVH6 – Cache #557
Saturday afternoon and I went out to clear up a few puzzle caches that I had worked out the answers to over the previous few days (I do have a little black book with the answers to the local puzzle caches in (although its's actually brown))
This first one was based on the zones that London underground stations are in. The cache itself was easy to find, and contained a wooden train and a log in a memory card holder.

12th June 2010 – Harewood History GC1464F – Cache #558
A two part cache, co-ordinates given for a 35mm film cannister, painted green, hidden in a tree root, covered by a rock, inside are the co-ordinates of the final cache.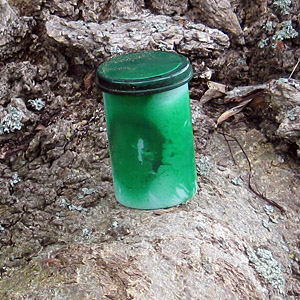 The final cache is a big ammo can which was hidden at the base of a tree on the other side of a wood under a load of stickoflage. The wood contains a neolithic fortress earthworks, I had no idea they were there, only about 4 miles form where I'd lived for almost 45 years… I certainly learn about the local history doing geocaching !

12th June 2010 – Little Harewood history GC14654 – Cache #559
This cache is on the path from the parking spot to the first part of the previous cache. I hadn't looked for it (more than a cursory glance) on the way out as there were a couple of women with dogs walking towards me, so I left it for the way back. I'm glad I did as it was much easier to see the cache heading back than it would have been heading out as the cache is invisible apart from about a 60° angle
the far side of the cache site from the parking.

12th June 2010 – It's My Own Invention GC170QR – Cache #560
Another puzzle cache, one that hasn't been visited since last October, in fact it was only visited twice in 2009 in total, which is a pity as it's quite an easy puzzle to solve, being based on a chess move from the OS grid co-ordinates rather than the normal caching co-ordinate type. The cache is huge, about the size of a washing up bowl, and was on the ground under a tree (rather than in the tree as it should be) but even though it had presumably been on the ground for months the contents were dry and clean.

After that I walked up the hill to find another puzzle cache GC170P0 Queen Alice – the puzzle was a supposedly difficult one counting a long list of 'and one and one and one and one' with a few 'and ten' slipped in for good measure. To solve it Microsoft Word and replacing the 'and's with a space, replacing the 'ten' with a random long string of text to make them obvious and then doing a word count to count the number of 'one's made it easy.
Unfortunately finding the cache wasn't easy, firstly the footpath marked on the OS map from one cache to the other no longer exists, it has a fence and barbed wire blocking it – and a field full of crops. So I skirted around the field and had to climb up and jump over a fence to get to where the cache should have been… and then I couldn't find it.
(I contacted the owner and he has been and replaced it so I will be able to find it easily next time I am passing)
13th June 2010 – Liam & Ollies lolly 3 GC288EM – Cache #561
Sunday morning, and a trip out to buy some new walking boots, and then I thought I may as well do the few caches that had sprung up near the shop. I had done Liam & Ollies Lolly 1 and 2 back in September, and I had done the other caches around there, the Woodhall series the day that these new ones were put out. So I just had a short walk and four caches to find.
The first one was easy enough to find, stickoflage piled behind a tree, I just had to wait for the worlds slowest mountain bikers to pass… it's not as if it's a steep hill even, they were just very slow !

13th June 2010 – Liam & Ollies Lolly 4 "The Rock" GC28M11 – Cache #562
The second cache was also fairly easy to find, I was walking down the track and came to a house entrance on one side with a large boulder on the other side, behind the large boulder were a couple of smaller stones covering the cache.

13th June 2010 – Liam & Ollies lolly 5 "The old tree" GC28M20 – Cache #563
An old tree growing in the corner of a wall is the hiding place for this, a short search around as there were a lot of potential hiding places soon turned up a stone covering the cache.

13th June 2010 – Liam & Ollies lolly 6 "Stumped" GC28M2Z – Cache #564
This cache seems a bit temporary, a pile of stumps and logs cut out of the hedge standing at the edge of a field with the cache in the middle, I can't help but feel the wood will be on someones fire before long and the cache discarded.

13th June 2010 – A Yogi Yorkshire Ramble GC1BBE3 – Cache #565
Sunday evening and I was itching to try out my new boots. I noticed that a couple of local caches that had been disabled for 3 months had been put back online earlier in the day, so I set out to do them and a few other ones around them. It had been raining all afternoon (and was still drizzling to tell the truth) and so my boots got a thorough soaking on the outside but my feet stayed nice and dry 🙂
Anyway the first cache was hidden behind the trunk of a bush on a sunken path, it had been found by some children and they had left messages in the log book (not rude ones at least like a lot of kids leave) but the cache was still intact except the lid was missing and the contents were getting a bit damp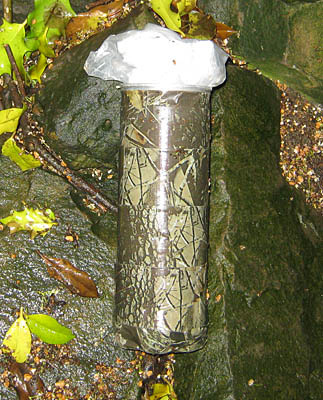 13th June 2010 – Rawdon Billing GC1ZPZ4 – Cache #566
Rawdon Billing is a hill with a wood on the top, not a very big hill, but from the top you do get views over the surrounding places. This cache is hidden in the middle of a clump of small trees and is difficult to get to. This was one of the caches that had been deactivated and only put back earlier in the day.

13th June 2010 – Billing Vista GC1JM0K – Cache #567
This one took ages to find… with the rain getting heavier all the time and me getting wetter and wetter. The cache is hidden in the ground and covered by a flat stone, the trouble is that there used to be a dry stone wall here made of flat stones so there are many such stones to choose from. A systematic search meant I had turned over about 75% of them before I found the right one !

13th June 2010 – Bridge that gap GC1QE88 – Cache #568
Back to the car and a mile or so down the road and a change to a rain coat and I was walking along another footpath across another field to find the next two caches. The first one was under a bridge over a stream, and could be seen quite easily through the slats, but was difficult to reach without actually standing in the stream – and I didn't want to subject my boots to that their first time out !

13th June 2010 – WuN4AndEE2gET GC1Z0QW – Cache #569
A respectably large cache hidden under a large stone in the corner of a field, quite easy to find as it's the only stone that isn't part of the wall, though I guess it once was.

13th June 2010 – Leeds Country Way-The Red Beck GC1GEQX – Cache #570
Somewhwere in the 300 yards that the stream goes through from Bridge That Gap cache to here there must be a large deposti of red clay, as the same stream is a very red colour by the time it gets to this point and there is no other possibility for why it is red (unless a joining stream comes through the clay I suppose) The cache itself is a 35mm film cannister hidden behind a fence post and the previous cachers log say they failed to find it, though I found it a straightforward find.
The cache was totally soaked, and although it has a log made of waterproof paper I didn"t have anything with me that would write on it.

13th June 2010 – Yeadon Yomp GCNW5Q – Cache #571
This is the other cache that was re-activated earlier, it is a cache that involves going around the pubs in Yeadon to get answers to clues… I managed to get all but 3 of the answers from Google Street View ! and even got one right clue that is now wrong in real life as the pub has changed. I had told the cache owner that the cache was missing back at the Mad March Meet, and it had taken until today to put it back… but I then found it the same day it was replaced, so it looks to the owner like it was worth replacing !