Home » Geocaching
On Ilkla' Moor Ba' T'at – Caches No's 514 – 526
22nd May 2010 – Hangingstone GCX516 – cache #514
Saturday was a hot sunny day, very hot in fact, so I hid from it until the evening and then went out up Ilkley Moor to have a little walk round and get a few more caches.
The Hanging Stone is a large rock precariously balanced on a stack of other rocks, I must have gone on the road past this rock feature hundreds of times over the past 40 years, but I had never noticed it until 10 minutes before I found the cache, even though it is in full view of the road and less than 200 yards away !
The Cache hint said helpfully that it was hidden under a large sloping rock… lots of large rocks and as they are on a hillside they are all sloping !
Fortunately it wasn't too hard to find the right one, and a cache that was rather larger than most.

22nd May 2010 – stone nose GC1EXGA – cache #515
This week I had my Memorymap GPS with me, so I was able to follow the path on the moors to the next cache, Stone Nose turns out to be a large rock, why it's a nose I don't know, doesn't look particularly nose like.
The hint said 'Left Nostril'… which is incorrect, your left nostril is the one on the right side of your face to a person looking at you, so a cache hidden on the left side of a nose would actually be the right nostril…

22nd May 2010 – Where the Ducks play football! GC1K3RK – cache #516
As I was walking along the path towards this cache I saw three men and a woman walking the other way, they got so far and then left the path and climbed over some rocks, one of them reached down and pulled a sandwich box from somewhere… Well they were either having their refreshments or they had found the cache.
I carried on walking towards them and they took little notice of me until I too, having looked at my PDA to confirm they were at the cache site, left the path and walked towards them, I introduced my self to Esme Topper, Mog, Bulman86 and DJBenWalker.
We spent so long sitting on the rocks chatting that it was too dark to look for more caches.

23rd May 2010 – Goldibox And The Four Beyers GC20GZP – cache #517
The nearest cache I haven't done to where I work is less than a mile away, the reason I haven't done it is because it is on the wrong side of the river and the canal from us and so from the water crossings is too far to get to and back from in half an hour. In the same stretch of woodlands are 4 other caches.
Sunday was as hot and sunny as Saturday had been but rather than hide from it I decided that if I went out waling in the woods I would be out of the sun and keep relatively cool… so I decided that these 5 caches in the Buck Woods would be my target
This first cache was easy enough to find under a pile of logs, the box was sprayed with gold paint for camouflage reasons I think, certainly blended in well to the colour of the wood with my dark glasses on !

23rd May 2010 – Buck Wood GC128DD – cache #518
The next cache was a 35mm film container that was quite well hidden being lodged inside a split in a tree stump and covered by a piece of wood also lodged in the crack so it looked like it was part of the stump, I spent a while searching other trees nearby before going back to the stump and examining it more closely until I found the cache

23rd May 2010 – The Edge GC128R1 – cache #519
Hidden under a large rock part way down a steep banking… trouble is there are lot's of big roacks and the banking is pretty steep, so steep that I was sliding down it as I moved from rock to rock to search for the cache, which I found eventually as it hadn't been hidden too well by the previous visitors… I his it much further back under the rock.

23rd May 2010 – 'Just Do It' in Buck Woods GC18PQT – cache #520
According to the logs this one had been difficult for a few people to find, it said it was a few feet off the path and a few feet away from a particular feature, finding the feature was easy, from there I looked in a few obvious places (tree roots, under rocks etc) with no success, then I read the description and logs again and something just led me to think that it wasn't at ground level, and that was the right thought, and the cache was hidden in a crack in a tree about 5 feet above ground level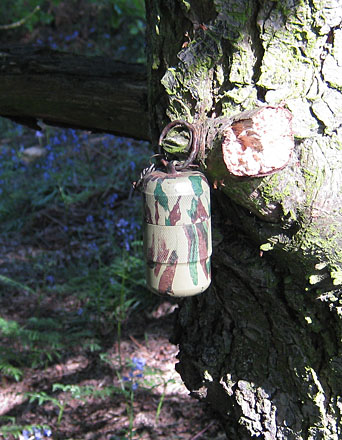 23rd May 2010 – Field Locks GCHJDE – cache #521
This was by far the hardest cache of the day to find, there's a three part cryptic clue and even now I have found the cache I still don't get all three parts of it !
Basically there's an old bridge crossing the canal and the cache is at one end of it, but whether it's on the bridge or underneath it is the question… and so I searched and I searched but couldn't find it… after about 15 minutes I was about to give up, but just thought I'd have one more look up top, and there in a dark spot I saw a little gleam of reflected sunlight on a metal ring, I reached in and withdrew the cache… got nettled in the ear while reaching in mind !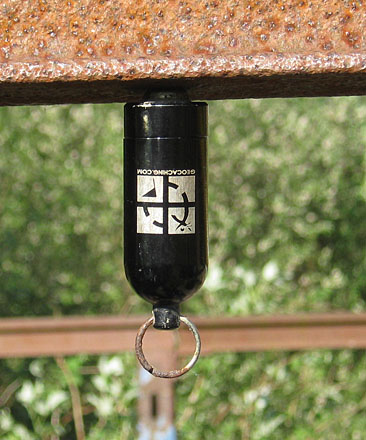 23rd May 2010 – Bridle Branch GC1P4Y1 – cache #522
After succesfully finding the caches in the wood I decided that I would drive home via the road I was driving along on Friday lunchtime and grab all the caches that I had had to drive past then, first of all I stopped in a pub car park (didn't go in for a drink though) and grabbed this cache on a path leading down the hill from it.
The Bridleway is obviously the original 'road' up from Shipley to the Glen and beyond that to the moors and Ilkley, these days it is a cobbled path, with a wall up one side and totally covered over with trees, so in the bright sunlight it was black as night down the path, fortunately the stones used to cover the cache are a nice bright yellow sandstone, so it was obvious where the cache was hidden even in the dark

23rd May 2010 – Between the Beaten Tracks GC1GM9N – cache #523
A walk through the woods where a lot of rubbish is strewn about…. including a lot of gardening rubbish just dropped over the fence from the houses backing onto it.
However, big rock,  35mm film container underneath, not too hard to find, remember the clue for the multicache and move onto the next

23rd May 2010 – Scotland in Shipley GC6B18 – cache #524
There is a car park only 50 yards or so from this cache, but it was full of young Asian men having a barbecue, they'd obviously come out of Bradford to enjoy the sunshine and why not ?
But it did mean that the car park was full so I had to drive about four hundred yards up the road to the next parking place and walk back.
Fortunately their barbecue wasn't too near the cache so I wasn't observed finding it.
The cache description is quite definitive about it's position, large rock with a vertical crack and in the crack is a hole where the cache is… Large rock with a vertical crack is easy to find spotting the hole for the cache is easy, but getting to the cache isn't… I'm too large to fit into the crack… eventually a bit of contortionism came into play and by laying on my side I was able to get my shoulder into the crack and get my fingertips onto the cache.

23rd May 2010 – Loadpit Beck GC16D48 – cache #525
Apparently this one is a difficult one to find, over a quarter of the logs are DNF's and many of the people who have found it have been to the spot a couple of times, and others have had to use the Phone A Friend option.
I used the information in the previous logs to find it, basically it said the way to do it was to get a long stick and poke around in places where only a long stick would reach, so I found a long stick (probably the same one everyone uses) and soon had the cache found, then I used the stick to push it back into it's crevice and left the stick near the cache for the next finder to use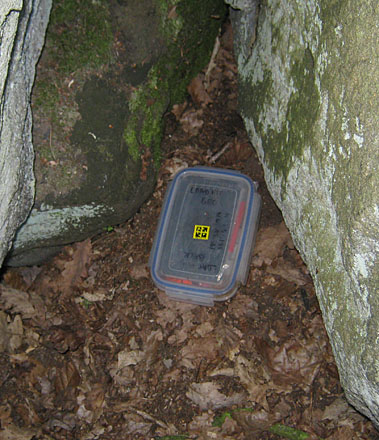 23rd May 2010 – Piggin lost GC23W53 – cache #526
Last cache of the day, and the easiest as well, a quick drive by with parking 15 feet from the cache and a hint that tells you exactly where the cache is