Home » Geocaching
A Weekend Away Part III: The Journey Home – Caches No's 396 – 406
19th April 2010 – Broken As GC1RX9H – Cache #395
Strenshall Services North, This cache had been replaced a couple of days before, I was expecting it to still be the old cache which had apparently been hard to find, instead it was a very easy find, the only problem I had was that I was being watched by a couple having a rest on the grass nearby, so I had to walk the long way round to get back to my car and make it look like all I had been doing was stretching my legs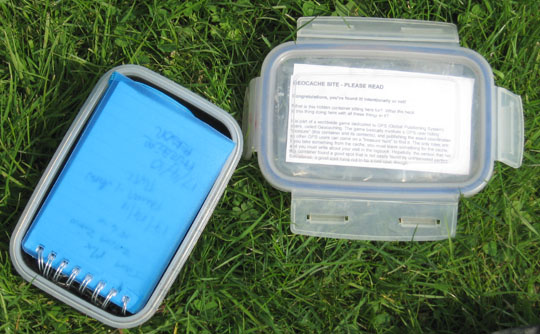 19th April 2010 – WYCHBOLD (St Mary) GC1966M – Cache #396
I was running out of petrol so thought I had better pull off the road to a garage I knew on the edge of Wychbold. I go here a few times a year and hadn't intended to stop here this weekend cos I thought I could get the caches next time I was down this way – but fortunately the Pocket Query had picked them up as being on my route.
A 35mm film cannister stuck in the crack of a church wall… not easy to get out of the crack either.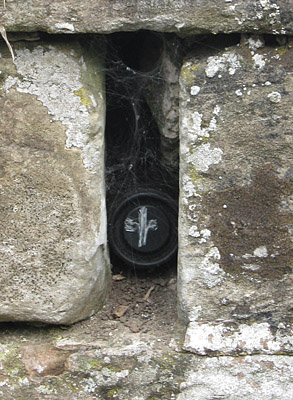 I then had a quick look for WYCHBOLD (Masterful) GC1966A, but I was being watched by someone from a nearby window, probably wondering why I had parked outside her house and was looking in the bshes on the opposite side of the road… so I had only a cursory glance and moved on… I'll be back later.
19th April 2010 – Milling Around GC1N742 – Cache #397
This cache was only a couple of hundred yards from Masterful, so to allay the suspicions of my observer I left the car where it was and walked down to the cache, hidden in a broken piece of concrete pipe, unfortunately I had to make it obvious that I had disturbed the area cos the pipe end was shrouded in nettles.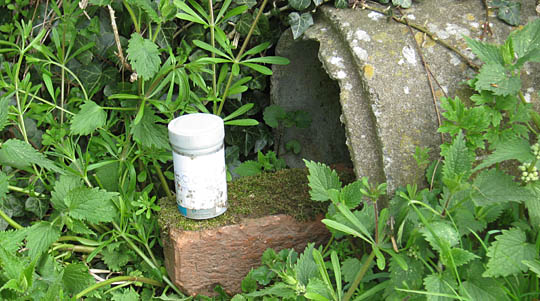 19th April 2010 – Have a Break-Have a Junction Break M6 J15-J16 GC1T3VK – Cache #398
An easy find in the armco of a motorway bridge… another 35mm film cannister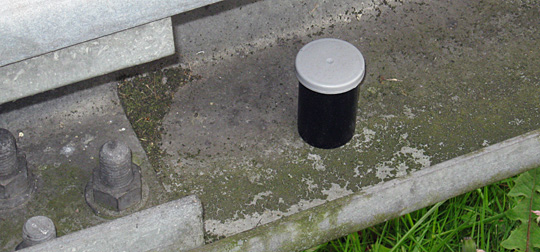 19th April 2010 – Motorway Mayhem M6 Keele Services Northbound GC1HA8R – Cache #399
A 35mm film cannister hidden under a rock – actually another piece of concrete… they've all seemed to be pieces of concrete this weekend, and hidden not at the base of a tree but in the crutch of a tree where the trunk divides… wuold be easy except about 10 trees split in the same fashion here… fortunately no-one about to see me search them all – it was in the last of the 10 trees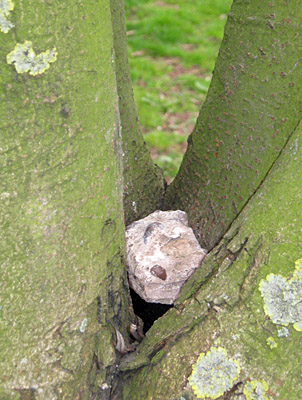 19th April 2010 – Motorway Mayhem M6 Sandbach Services Northbound GC10JV6 – Cache #400
And cache number 400 is another 35mm Film Cannister… this time magnetic and stuck to a pole holding up an advert at the side of the car park. You can park right next to the pole… unfortunately there are 3 poles and I parked next to the wrong one !
19th April 2010 – Motorway Mayhem M6 Knutsford Services Northbound GC10K9D – Cache #401
Between the car park and the access road there is a verge and some bushes, where the entrances to the car park are they have put big boulders presumably to stop people cutting the corners… The cache is underneath one of these. At least the boulder gives you somewhere to sit and sign the cache !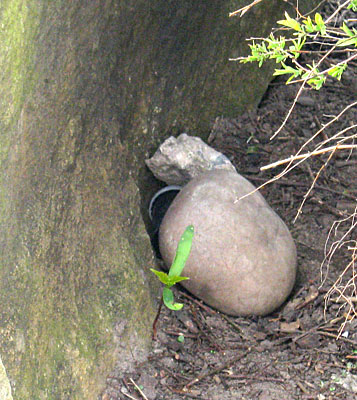 19th April 2010 – Operation Crossroads No.1 GCM64V – Cache #402
The weather all weekend had been lovely and sunny and warm and blue sky… soming home I got to 20 miles away and I was in cold wet misty conditions. This cache is actually in the middle of the roundabout at the end of the slip road, fortunately there is a layby about 50 yards away and also fortunately it isn't the busiest of junctions so I had no problem crossing the road to get onto the roundabout. The drivers coming round could obviously see me, I wonder what they thought I was doing on there ?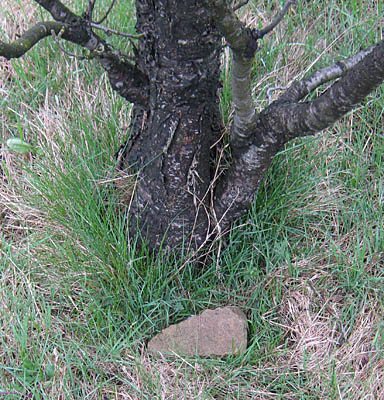 19th April 2010 – Dung Rangers Tour #2 – McAlpine View GCK77K – Cache #403
One of these caches where there is nowhere to park on the side of the road where the cache is, but there is a gateway on the other side… so you think you'll just drive down to the next place you can turn round then come back to the cache… trouble is the next place to turn round is about 3 miles down the road !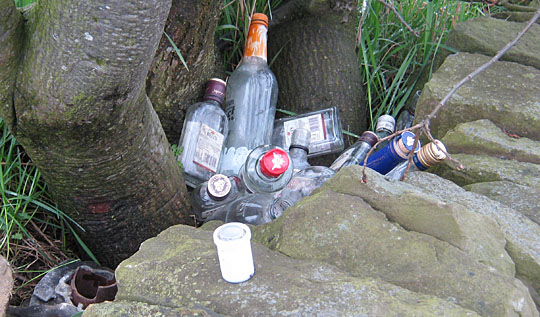 19th April 2010 – Bowling Park – Royalist or Roundhead? GC22VRG – Cache #404
A final stop off on my trip home to do three more caches… maximising my opportunities to get lots of caches… especially as I hadn't done as many as I had thought I might do while I was at Brean
I didn't actually find this cache… I found a place where a cache should be and I found an empty camo bag under a tree a few feet away… I had a good look round but couldn't see any sign of anything more of the cache.

19th April 2010 – Bowling Park – Pity Poor Bradford GC22VRJ – Cache #405
Cache in a camo bag under a log a few feet off the path in a busy park… wonder how long it will remain unmolested… there were only a couple of lads playing pitch and putt in sight when I grabbed the cache, but in nicer weather this place must get very busy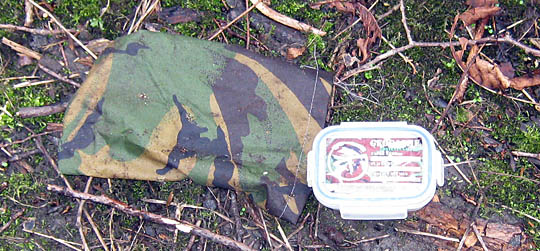 19th April 2010 – Bowling Park – I Spy Ivegate GC22VRN – Cache #406
It's obvious where the cache should be… but it wasn't
I reckon it's probably that the school holidays have had the local kids playing in the park and disturbing the cache, and then it's been cleared up with the litter when the clean up team have come in to clear away the remains of the picnics

Thanks to Flookbird for letting me claim the cache even though it isn't there to be found