Home » Geocaching
Northcliffe & Heaton Woods – Caches No's 343 – 356
April 10th 2010 – N&HWW First & Last GC26BHQ – Cache #343
Saturday, and a planned 3 mile cache series walk. I Parked my car in near the start and walked down to the corner, spotted a group of people searching around, but who all wandered off to sit on a bench when I appeared… Quickly found the cache… however I felt I was under observation, and soon a couple came towards me, with yellow etrex in hand. Introductions were made 'Geoffenator & Wol', I left them with the cache to sign and set off for the next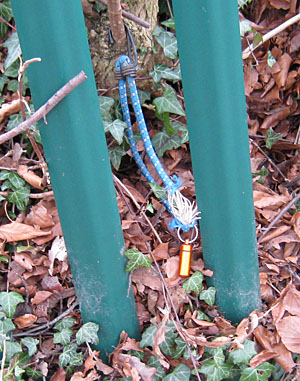 April 10th 2010 – N&HWW Fore! GC26BXF – Cache #344
I wasn't sure I wanted to cache in a group, so I went on to the next cache in the series while they set off for another nearby cache (that I did on the way back)
This cache is in a small copse on the edge of a golf course (hence the name) I spent ages searching around, and all I found was a golfball… I was getting a little concerned that the golfer in searching for the golf ball I had discovered had disturbed the cache I was searching for as there were definite signs that someone had been searching through the undergrowth with a swinging 7 iron.
However, when Geoffenator & Wol about ten minutes after me they turned the cache up straight away, from a place I had already examined thouroughly… or so I'd thought.
April 10th 2010 – N&HWW Shay Gate GC26BY1 – Cache #345
After failing to find the 'Fore' cache until Geoffenator & Wol came along I decided that it would be easier to walk round with them the rest of the way… more eyes means easier finds… and also someone to chat to the golfers over the wall while the others find the cache, which in this case was about the easiest one of the series
April 10th 2010 – N&HWW Six Days Only GC26BY8 – Cache #346
The thing about caching with other cachers is that when you find somewhere that you think the cache to be but you don't fancy putting your hand in because of nettles, brambles and other such nasties, is that you can hope one of the others will do the deed leaving you with clean hands…
Unfortunately there were enough possible cache hides here that we'd all got our hands dirty before the cache was retrieved.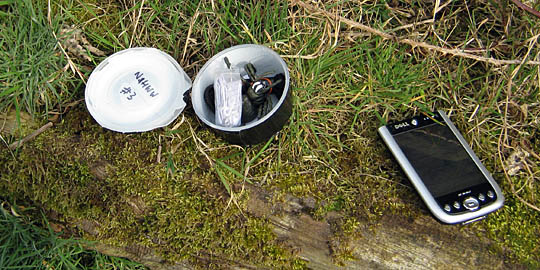 April 10th 2010 – N&HWW Over the Bridge GC26BYJ – Cache #347
Nasty one this… we searched round for ages without turning it up. The PQ I had done the previous afternoon led me to believe that the given co-ordinates may not be quite accurate… so we widened the search area, but still no joy.
Just about to give up and Wol asked "have The Biffa's done this one ?"… checked the logs, yes they'd been here yesterday, and had resorted to the PAF method themselves, so Wol did the PAF and guided us to it.
We would never have found it without help… there seems to be a PAF pyramid to find this cache
April 10th 2010 – N&HWW Half Way GC26BYR – Cache #348
According to the hint, the cache is under a rock half way between a tree and another tree… blooming hundreds of trees to search between… thankfully Geoffenator found it before too long
April 10th 2010 – N&HWW By the stream GC26BZ4 – Cache #349
An easy to find cache hidden in the roots of a tree, under a rock… trouble is in the middle of a wood it's hard to pick the right tree first time as GPS coverage isn't great.
Conveniently enough the correct one was only the second tree I examined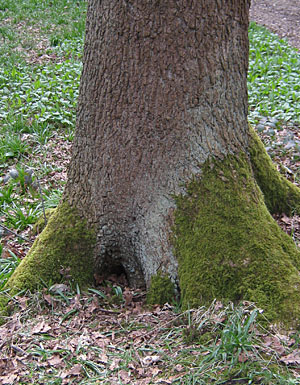 April 10th 2010 – N&HWW Silver Birch GC26BZB – Cache #350
A little easier, only 3 silver birches around as the GPS said we had arrived at the right place, Geoffenator chose the right one first time
April 10th 2010 – Sidetracked – Northcliffe GC22AG2 – Cache #351
A surprising one this, as I've done several 'Sidetracked' caches I was expecting a disused railway line or some such, what I actually found was a dual gauge model railway track where the local model engineering club run their loco's, and a fairly obvious pile of sticks covering the cache nearby
April 10th 2010 – N&HWW N&HWW Rockery GC26BZY – Cache #352
Geoffenator and Wol had started with this one as they had parked in a different spot to me, so I was back caching solo for this one… a 35mm film cannister, hidden by a rock, at the base of a tree (well a tree stump that formed part of a wall anyway)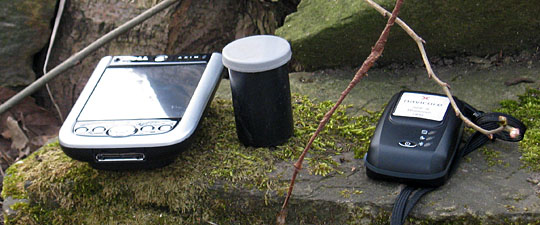 April 10th 2010 – N&HWW Woodcraft School GC26C0B – Cache #353
Wol had given me a clue for this one, so I was able to spot it straight away whereas I would have had a harder time finding it from just the co-ordinates and the hint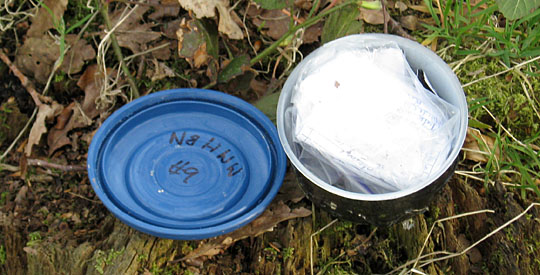 April 10th 2010 – Curse of the FTF Bradford #8 GC267P4 – Cache #354
This was the cache that Geoffenator and Wol had gone to find after First & Last, a straightforward find at the minute, though in a few weeks when the undergrowth has grown and the leaves on the trees are out blocking more of the GPS signal this one like many others in this wood could become swines to find.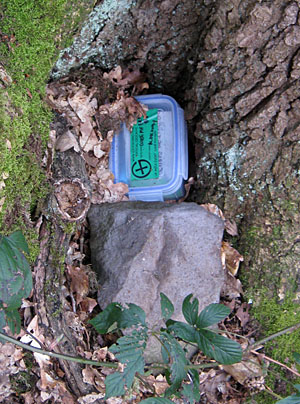 April 10th 2010 – Aire Valley Views GCKDW9 – Cache #355
From where I'd parked this one was about 5 minutes walk away in the opposite direction from where I had been, easy enough find of a big cache, though hidden in a wall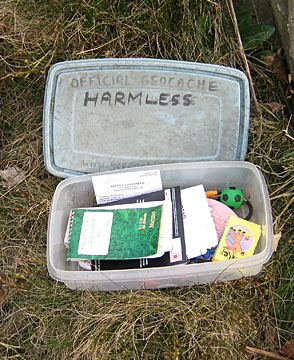 April 10th 2010 – TT Bellies Relief!! GC1R9HK – Cache #356
I'd found 13 caches so far, not wanting to leave it on that number I went for the next nearest one, easy to find, but impossible to sign as the whole box was full of water !
As I was heading back up the path I passed a bloke coming the other way, with what appeared to be a GPS in hand and as I looked back he stopped to examine the corner of the wall… From the logs he was 'Ska Face'