Home » Geocaching
A Busy Easter – Caches No's 317-339
April 2nd 2010 – Curse of the FTF Wharfedale #10 – Turn! GC24WCG – Cache#317
I had this thought last Monday, that I may just be able to get to 500 caches in my first year of caching. At the time I had found 312 caches and so had 188 left to find and had 61 days to go… ie 3.08 per day or 22 per week. Which sounds a little unfeasible really unless I spend all weekend, every weekend caching, but 400 caches shouldn't be too hard.
Anyway, Good Friday and I had some shopping to do so I decided that I could get a local cache or two as I was passing. The first one of these was this one, a simple enough micro hidden by the sign for which the cache is named.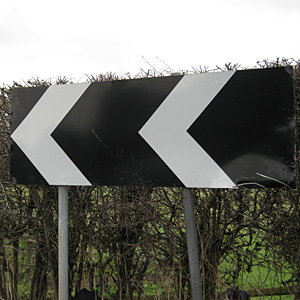 April 2nd 2010 – Child's Play 3 GC162D3 – Cache#318
I needed to find this one to get the final clue for the bonus cache, easy enough to find, though in a housing estate so difficult to park without the neighbourhood watch twitching curtains at you, and the cache site is a little overlooked by some houses.
April 2nd 2010 – Howzat! GC1258G – Cache#319
This was a puzzle cache based on the way cricket scores are recorded, I had solved it (at the second go) months ago but never got round to finding the cache. It was a little walk over the fields, and the not obvious when you got to where it should be, that's co the cache is well camouflaged !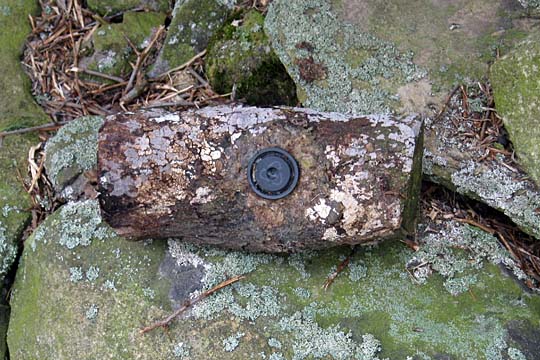 April 2nd 2010 – Keighley Town Square GC1R8G6 – Cache#320
I was doing a little shopping without my GPS, and realised that I was in the locality, I had the description of the cache and so had no doubt of where it should be… but couldn't see it as it's in a spot that is unseeable… however the use of a suitable stick poked it out of where it had to be. The cache is a Memory card case, so 30mm x 20mm x 5mm thick… a modern take on the 35mm film cannister ?
April 3rd 2010 – gold frog's cache GCHYDY – Cache#321
Saturday afternoon, and another trip out caching.
The hint for this one says under a stone at the foot of the wall covered by leaves…. everything is covered by leaves !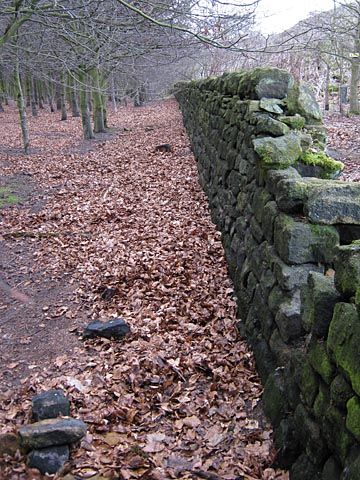 April 3rd 2010 – By Acres of Gold GCC23E – Cache#322
A surprisingly large cache (ammo box) hidden in a very public place, under an uprooted tree stump just a few yards from the main path in a well used park. The stones used to hide the cache make it pretty obvious to the experienced cacher, but may be I've forgotten how to look at things with a muggles eye !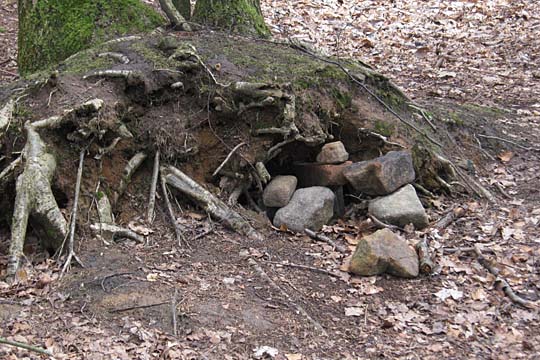 April 3rd 2010 – Scouting Around – Beaver Scout GCZBA5 – Cache#323
There are two paths, about 6 feet apart, one on the top of a dam, and one about 15 feet lower… of course I got the wrong one first, and after several minutes of searching with families walking past all the time, I realised that I should be down on the other path
April 3rd 2010 – Leeds Country Way – Five Lane Ends GC1DZZE – Cache#324
A short walk in a wood, the GPS reception disappeared completely about ten feet from the cache, but the description and hint led me straight to it
April 3rd 2010 – Leeds Country Way – Sweet Chestnut GC1DZZM – Cache#325
A bit further along the path through the woods, a very muddy and wet path in the woods I found this cache, and I didn't find Leeds Country Way – Dead Tree GC1EBRE though I found where it should be, but somebody had been at the trees with a chainsaw, judging by the sawdust around not more than a couple of days before.
April 3rd 2010 – Church Micro 579 Adel GC1PGNR – Cache#326
An easy to find cache in a very wet place, there is a spout in the wall which drains water out of a higher level and with all the rain it was pouring out and turning the area around the cache site into a bog, well a pool actually !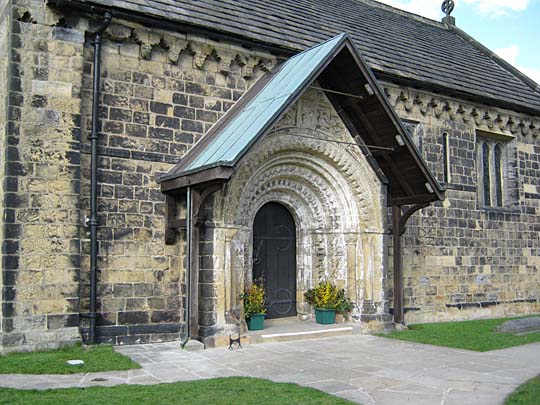 April 3rd 2010 – Anagram Dale GCKF12 – Cache#327
Not sure want the Anagram Dale name relates too, there are some logs that talk about this as one cache in a 'Meanwood Trail' Anyway another cache in a sea of mud, a wood full of youths digging mountain bike trails crossed with BMX tracks, easy enough find when the youths had ridden down to the bottom
April 3rd 2010 – Golf with a view GC1M829 – Cache#328
Last one of the day, a straightforward drive by on the way home
April 4th 2010 – Scouting Around – Scout GCZBA7 – Cache#329
Easter day and another trip out caching. This was a fairly easy find in a bush down yet another muddy track… I was actually parked in a huge puddle, good job I had my boots on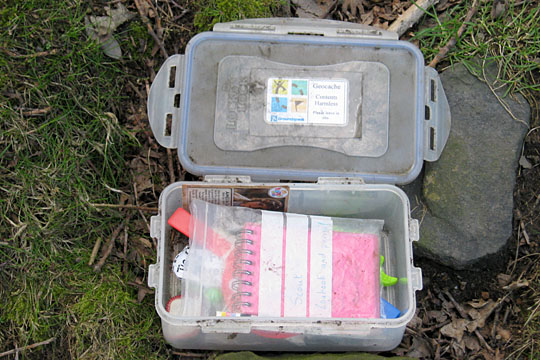 April 4th 2010 – Scouting Around – Cub Scout GCZBA6 – Cache#330
A cache buried in the ground in the middle of a bunch of hawthorn trees.. scratches a plenty getting to the cache
At this cache I picked up the Travel Bug Dog Tag – TB27A42
April 4th 2010 – Adel Church GCW064 – Cache#331
This is a cache where you have to find particular dates on particular graveyards to calculate the coordinates of the cache. On Saturday I spent about 30 minutes looking round the graveyard but I couldn't find the right graves…
However, because I've done the geneaology I know which websites to look at to find the answers to the questions without needing to search the graveyard again, so on Sunday I could just go straight to the cache… not that it's easy to get to the cache because of the number of tree branches in the way.
April 4th 2010 – It's the Final Countdown GC180HW – Cache#332
A puzzle cache that I had got an answer too, and then when I put the coordinates into memorymap I realised that it was not looking like the right answer… so I went back and recalculated and got a better cache site, and the cache was fairly easy to find… under a holly bush the clue said, only half a doxen of them to choose from.
Why does a dog walker always come along at the most inappropriate times ?
At this cache I collected Lucy's Cheesocoin Geocoin – TB22PB0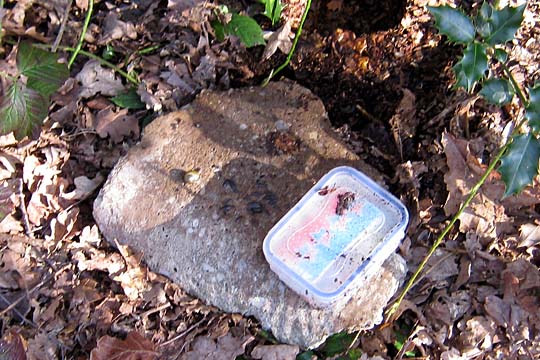 April 4th 2010 – Lost Houses – Alwoodley Old Hall GC1JWWFY – Cache#333
This one rates a 4.5 for difficulty, which means that it's no longer in the place where it should be as it's current 'hiding' place is visible to all who walk past.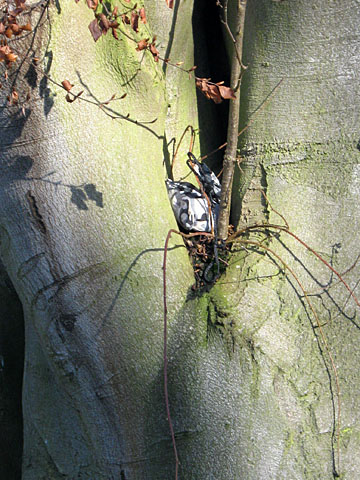 April 4th 2010 – Eccup Challenge Bonus Cache GC1TZWK – Cache#334
I found all but 3 of the Eccup series last Autumn, but somehow made a hash of the puzzle… even though I worked out what to do I got the answer to be in a place it obviously wasn't when putting the co-ordinates into memorymap
Anyway, looking at the map I decided on the place that the cache was most likely to be, a gap in the circle of caches on the walk and fairly near the finish point… and my deduction was correct
At this cache I picked up the travelbug Light in the dark TB2RNGB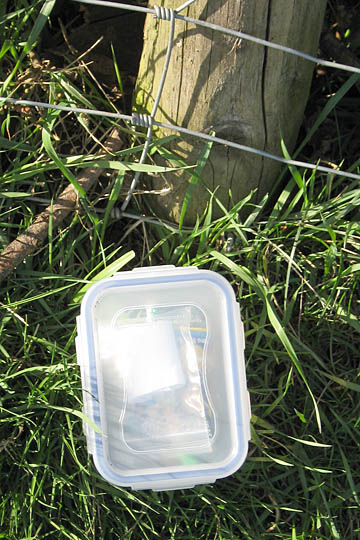 April 4th 2010 – Mouse Run 3 GC14A7Z – Cache#335
A nano cache hidden in a tree that is gradually getting covered by ivy, easy to find now, but in the future may become hidden by foliage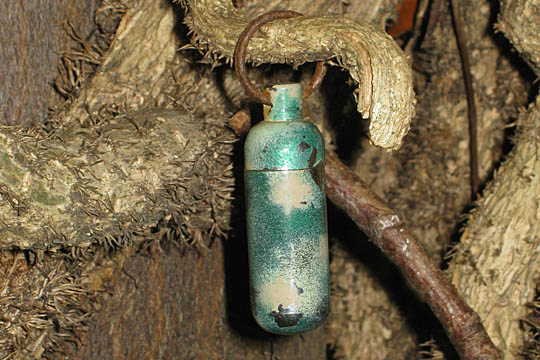 April 4th 2010 – Mouse Run 1 GC14A7J – Cache#336
A 35mm Film cannister, hidden by a rock, at the base of a tree…
April 4th 2010 – Mouse Run 2 GC14A7T – Cache#337
Another 35mm Film cannister, hidden by a rock, at the base of another tree…
This one is a little more difficult as the nearby home owner has decided to adopt this bit of verge as part of his garden, so it is now a manicured lawn, barely hidden from the house, but the stones and the cache are still around the tree.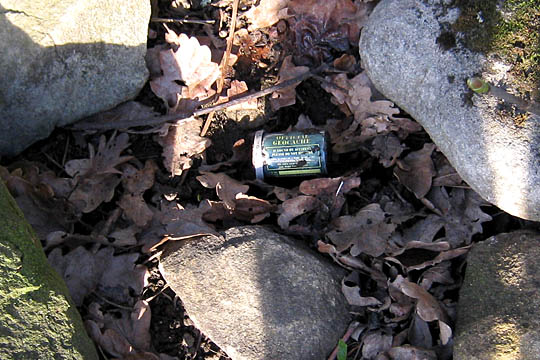 April 4th 2010 – Eccup Challenge #17 GC1TNVE – Cache#338
This was a cache that I had somehow missed out when I did the Eccup Challenge last year. For some reason I went from 16 to 18 and 19 before I realised I had missed the cache, by then it was too far to go back so I left this one. It's just a short walk from the Mouse Run series, so I walked down to it, down a 'No Entry' 'Private Road' which was very busy actually with people taking their dogs down to the reservoir for a walk. I guess the signs are out of date !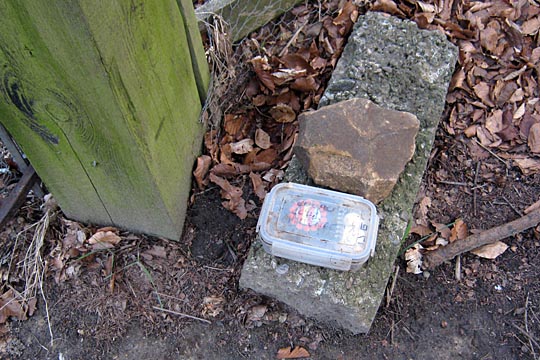 After doing this cache I then went to find Rat Run 1 – GC139FT, but failed completely… lack of GPS signal under the trees and a myriad of possible places (basically it's the entrance to a wood where a load of stones have been dumped and spread out under the trees)
April 4th 2010 – Curse of the FTF Wharfedale #12 Bedlam GC253CB – Cache#339
This wasn't as easy as it should have been, I mean there was a tree, just one tree, so you knw the cache is going to be there, but then there's no apparent sign of it at all… then I realised that the big stone in front of the tree was the key to the mystery… it's extra height lets you reach into the hole in the tree where the branch has been removed.