Home » Geocaching
Three Hundred Up – Caches No's 295 – 308
27th March 2010 – Post early for Christmas -1 GC1JYTE – Cache #295
A sunny Saturday afternoon stroll across the moors, what could be nicer ? (well a stroll across the moors when they are less like bogs would be better !)
I had spotted this circular walk which had 10 caches and a few unrelated ones close by, so I decided to follow the walk.
The first cache was nicely hidden inside a false post, just inside a gate that said no cyclists on it… of course I nearly got knocked down by two lads on mountain bikes who believe that restrictions don't apply to them, or maybe they can't read…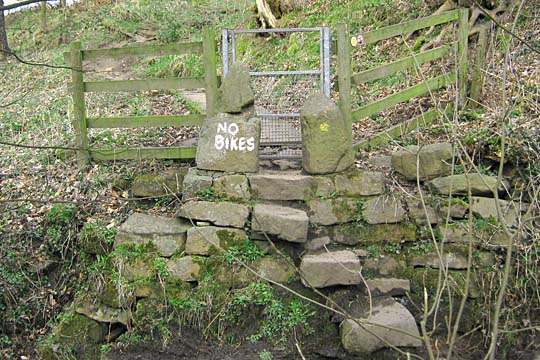 27th March 2010 – Gentle Stream – 2 GC1JYP0 – Cache #296
The second cache on the walk wasn't too far away on a path alongside a stream, hidden in a pile of logs, under the trees teh GPS wasn't too accurate so I needed the hint
At this cache I collected the Saturn Geocoin TB1P5BQ
At this cache I dropped off the Travelling Bear Dog Tag Travelbug
27th March 2010 – I see no ships – 4 GC1J7QH – Cache #297
After cache number 2 I went on (logically) to cache number 3… Tee'd off but in a hole – 3 GC1J7QV, but even though I spent 20 minutes or more searching I couldn't find it… even though I thought I knew where it should be. Now I have read some of the older logs I will be able to go back and find I was looking in the right place, just not looking hard enough !
So onto cache 4… you are not going to see any ships from here as you are well below the level of the reservoir dam. The cache itself was easy enough to locate, another case of 'what doesn't look quite right here ?'
27th March 2010 – Round bend – 5 GC1KR7Q – Cache #298
I was reading on the geocaching forums a topic about the number of caches that break the current rules and are hidden in dry stone walls (thus causing potential collapse of the walls when people search for them. This cache was hidden in such a place, but easy enough to find
27th March 2010 – Rocky – 6 GC1KR7W – Cache #299
This cache was in one of those false rocks you can use as a spare key holder in your garden, I walked along the track and this particular stone struck me as being out of place… not good old millstone grit, so it was easy to find
27th March 2010 – Archie's Walk #8 – Sconce Lane GC1HHDX – Cache #300
This cache was perhaps 200yards out of my way and is on another circular walk of 10 caches, I could have left it to do the full Archie's Walk at another time, but I decided to grab it as I was almost on top of it… thus making Archie's Walk a little shorter when I do get round to it… And it was my 300th cache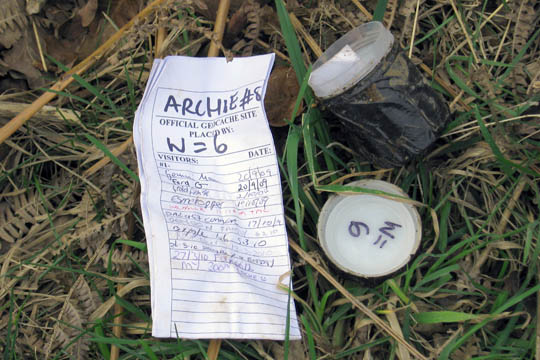 27th March 2010 – Archie's Walk #9 – Heading Back GC1HHE9 – Cache #301
The walk I was on was on the same path as Archie's Walk for a bit and this cache was on the bit of the walk that was common to both. I could see where the cache was as I walked along, a rock that didn't seem quite naturally placed…
At this cache I dropped of the Meet the Father Geocoin
27th March 2010 – Twixed Dales – 7 GC1KR81 – Cache #302
The Moor here is actually part of a golf course, and the paths go straight across the fairways… but then, so do the sheep !
In between two of the holes there is a dip with loads of bracken and a couple or three large stones in it, the cache is here too.
27th March 2010 – Wols Views #1 Baildon Links GC13R62 – Cache #303
Having passed through the golf course the walk continues on and this is another cache that is on the path, why do people hide caches in hawthorn bushes ? Ouch.
27th March 2010 – Curse of the FTF Bradford #1 The Last Post GC210MF – Cache #304
Also on the walk is this cache, which has caused difficulties for some cachers in finding it as it is not obvious where it is… fortunately at the cache meet last week I had overheard the secret of where it was hidden so it took me no time at all to get it… I would definitely have struggled if I hadn't known.
27th March 2010 – Cups and Rings GC1P3QK – Cache #305
An ancient artifact, moved from it's original site and incorporated in a wall around a caravan site. The cache is incorporated in the wall too, so not only are you in danger of disturbing the dry stone wall you are also in danger of damaging an archeological artifact if the wall collapses.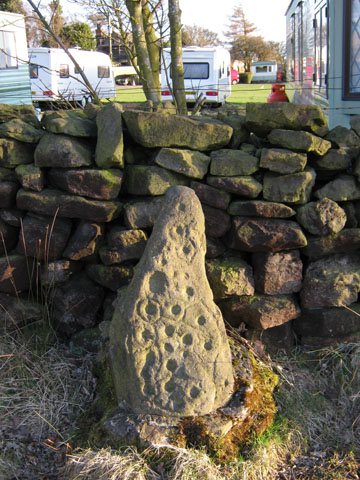 27th March 2010 – Valley View – 8 GC1KR87 – Cache #306
Easy to find… but again in the dry stone wall
27th March 2010 – Nearly back – 9 GC1KR8C – Cache #307
It's all downhill back to the car from number 8, with just this cache to find. It's just grass and bog, apart from a patch of gorse bushes… so guess where the cache is ? Right, it's in the gorse bushes.
At this cache I dropped off the Easter Egg 2008 Geocoin
27th March 2010 – Pride rock – bonus GC1KR8Z – Cache #308
After doing all the caches I had 8 of the 9 clues needed to work out the location of the bonus cache, and fortunately I had enough clues to be able to determine the missing one. The bonus cache was soon in my hands… after I had unearthed it from the bottom of another dry stone wall.
I can only guess that the rule about walls has only come in recently and all these caches pre-date it.