Home » Geocaching
Mad March Meet – Caches No's 274 – 288
March 20th 2010 – Wharfedale In a Roundabout Way – Otley West GC24TJ6 – Cache #274
For the Mad March Meet cachers get together the organisers had put out ten or so caches and there was a new series which had two caches near my house, so I went out to do them on the way to the cache meet, A few weeks ago I did a cache in the midlands that was a film cannister in a plastic orange, this was a film cannister in a plastic corn cob… most strange… and a First To Find for me !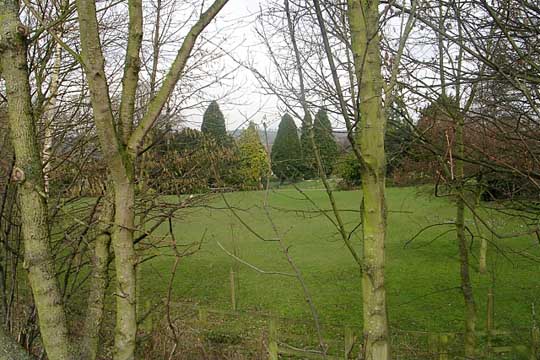 The cache is in here somewhere
March 20th 2010 – Wharfedale In a Roundabout Way – Otley East GC24TJE – Cache #275
5 minutes later I got to the other end of the bypass and found that I wasn't the FTF here, this cache was a carrot.
March 20th 2010 – Mad March Meet II (Yorkshire) GC20HTD – Cache #276
A cachers get together at the White Swan in Yeadon, only a ten minute drive away, so I thought I'd go along to see what the score was.
I'd never been to a cache meet-up before, and it was a bit intimidating at first as there were lots of people who all knew each other, and me who had never met any of them, fortunately it had been decided that everybody would wear name badges so at least I could match up people to names I had seen on the cache logs and on the Yorkshire Geocaching forum.
It would have been nicer if the weather had not been steady rain, as then we could have gone out and found a few of the new caches that had been put out, and that would have been another way to mix with other people.
March 20th 2010 – Has Overanout Had His Chips ? GC24TK5 – Cache #277
A strange phenomena… instead of hunting the cache it comes to you while you're sat in the pub !
It was raining so much that the velcro holding this cache in it's place wouldn't stick, so it was brought back to the pub and passed around for everyone to sign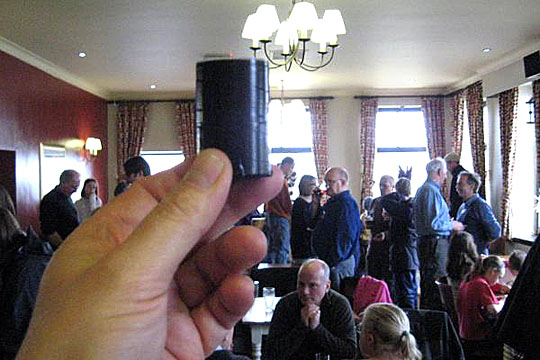 The cache comes to the meet
March 20th 2010 – Calverley Spring Bunnies #1 GC252ZH – Cache #278
The rain had just about stopped falling when everyone was leaving the meet, so I decided that I ought to at least do some caching. I had been sitting with Flookbird in the pub and several people come up to her and thank her for a new set of caches she had put out in nearby Calverley woods earlier in the week, several people had done the series in the morning on the way to the meet.
So I decided to go and do them, I wasn't the only one and at the first cache I came across Andy of AndyandMatt with the cache in his hand, we signed the log and walked around the rest of the series together.
The path in the woods was very wet, very muddy and quite slippery underfoot
March 20th 2010 – Calverley Spring Bunnies #2 GC252ZN – Cache #279
Two sets of eyes make finding caches easier, we were both getting different distances to the cache (Andy on a Garmin GS60 and my Vista HCX even next to each other were not reading the same location in the woods) but with so many trees to search round two people find caches quickly
March 20th 2010 – Riven in Two GCHQR6 – Cache #280
Not part of the series, but this one is in the same woods. Andy had found this a couple of years ago and could remember near enough where it was, after doing #2 we headed for this one… I think local knowledge of the paths might make it easier to go from one to the other rather than the 'as the crow flies' approach we took !
It ended up a painful experience as I slipped on a wet algae covered rock and ended flat on my back with the wind knocked out of me and a badly bruised arm, fortunately none of my equipment (GPS, PDA, Phone, Camera) had got damaged. The cache was fairly easy to find – once you had reached the spot !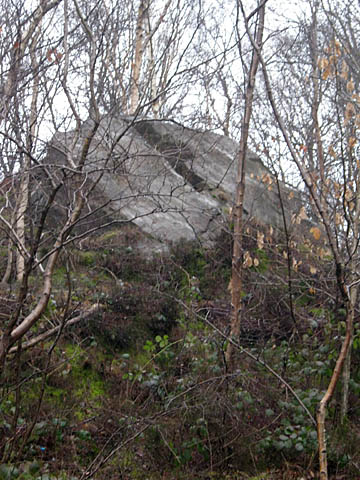 March 20th 2010 – Calverley Spring Bunnies #3 GC252ZQ – Cache #281
I got muddy scrambling up a steep bank at the side of the path, only to find when I got there that I could see what was obviously the cache site down below me on the other side of the path !
March 20th 2010 – Calverley Spring Bunnies #4 GC252ZZ – Cache #282
With two people it's also easier to look less suspicious while signing the log, I used the stopping to send a text message ruse to avoid undue attention from dog walkers while Andy sorted out the cache
March 20th 2010 – Calverley Spring Bunnies #5 GC25303 – Cache #283
This cache is hidden inside a plastic bunny, the way in is to decapitate it, quite cruel really !
March 20th 2010 – Calverley Spring Bunnies #6 GC25306 – Cache #284
It's amazing how big a cache you can hide in the roots of a tree, this was the biggest Clip-lock box I have ever seen.
From this cache I collected the Easter Egg 2008 Geocoin TB28Z1Z
March 20th 2010 – Calverley Spring Bunnies #7 GC25308 – Cache #285
The last one on our walk round the woods, and another bunny to rip the head off
March 20th 2010 – Child's Play 1 GC15WE0 – Cache #286
Returning from Calverley woods I had to pass the park where this one is hidden, a quick find and I was about the 10th person that day to find it, all people headng for the nearby meet. I now have found 3 of the four Childs Play caches, but have to revisit one as I have lost the clue from it to find the bonus cache !
March 20th 2010 – Otley Orientation – Cache #287
A puzzle cache that I had worked out the site of last summer, and failed to find the cache when I went in August due to a whole mass of 4ft high bracken covering a very uneven rocky ground as much as anything.
Full of enthusiasm after the Mad March meet I was passing the cache site on the way home so I thought I'd stop off to clear up the nearest unfound cache to my house… It seems I wasn't the only one who had the idea to get this one today as it was very easy to find, I just looked where the undergrowth had been disturbed !
March 20th 2010 – Off Yer Trolley! (Otley "S") – Cache #288
This being my local supermarket – and free car park for shopping in town – I'd walked past the cache site many times and worked out where the cache must be… still full of enthusiasm I decided that I would brave the CCTV cameras and see if I was right… and I was