Home » Wharfedale Plus
Messing about in boats
Another dip into the past brings us to one of my favourite days that we had back then, Just a day spent messing about in boats. The boats in question were two 20ft barges that we hired from a boatyard in Skipton one sunny Saturday. I've been trying to think of why I remember this one day so fondly, I mean it wasn't a greatly exciting day, nothing thrilling happened, we just pottered along watching the world go by at 4mph… but just look at the pictures and you'll notice everybody's smiling, and that's what made it such a good day.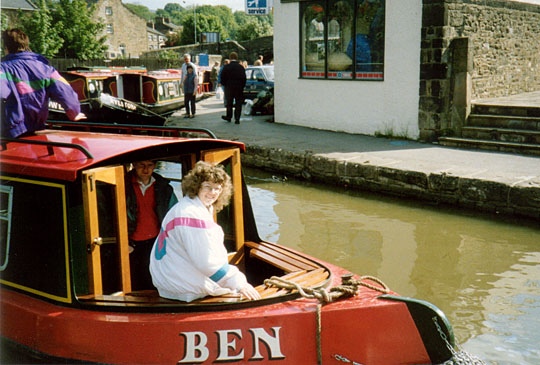 Gran getting ready to set sail, with Wendy-woo on the roof and Popeye in the barge
To make the most of the day we had to pick the boat up at some ridiculously early time for a Saturday… like 8:00am… I remember this especially as I had to get to Skipton on the bus, so I had to leave home at 6:45… (it might be 19 years ago but I remember it well as I haven't been on a bus more than 2 or 3 times since).
We had two barges, Bill and Ben, each would hold 10 people, and looking at the pictures, there were 20 of us aboard.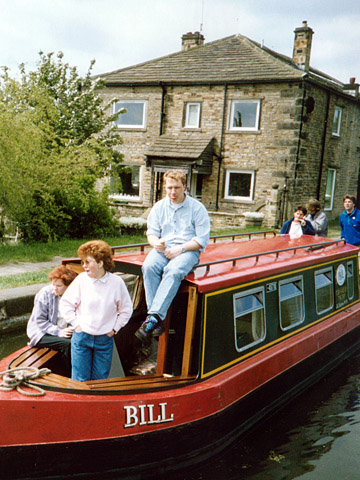 The other barge, with Liz, The Cell and Browny in the bow, Belinda,
in the stern we have Claire and Laurence on the tiller
I spent most of the day on the roof of Ben (fortunately no low bridges !) so a lot of the pictures seem to be taken looking down onto the other boat… cos I was standing on the roof as the boats passed each other.
It might have been an early morning start, but it didn't take long for some of us to start cracking open the tinnies…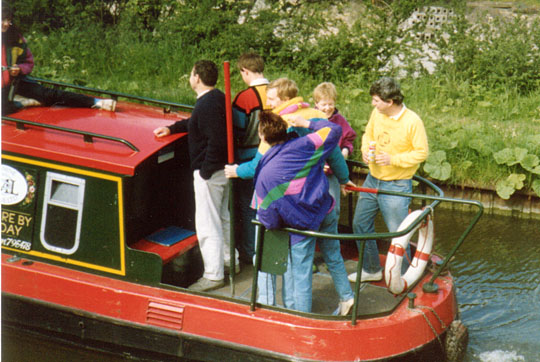 How many people can you get on the stern of the boat ?
The Bush has problems steering because of the crowds
The Fish on the roof, Lawrenzo, Hubert, Wendy-woo, the Bush, Kate and Andy Animal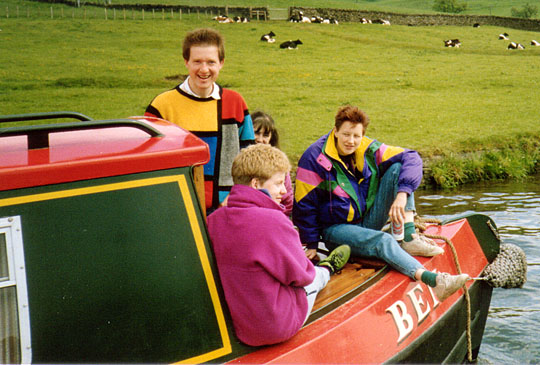 How many people can you get on the bow of a barge ?
Hubert, Kate, the Fish and Wendy-woo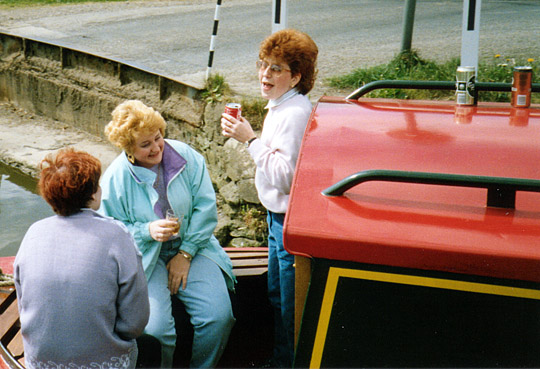 Liz, Malibu Mel and the Cell
By 10.30 we had got down to the village of Kildwick… but had already run out of Ale (on our barge at least) So a quick trip to the village shop got us enough drink to last us until lunchtime when we filled up again in Silsden.

The Bush, Andy Animal and Wendy-woo, enjoying the sunny countryside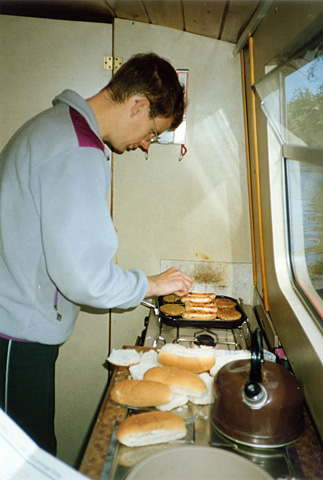 Luxury cooking facilities… Robbo on banger and burger duty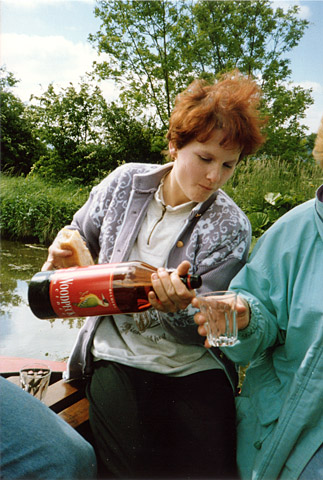 Liz makes sure Malibu Mel is topped up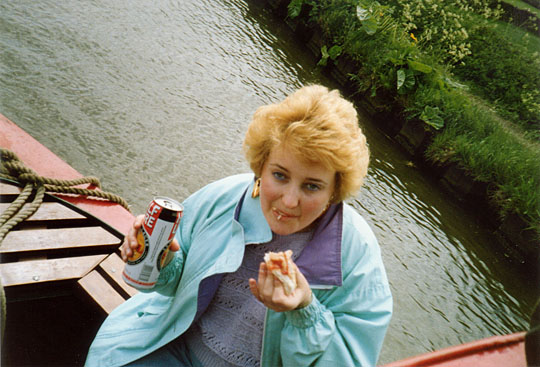 Breakfast ? Lunch ? or Tea ? – Whichever, it's beer and a burger for Malibu Mel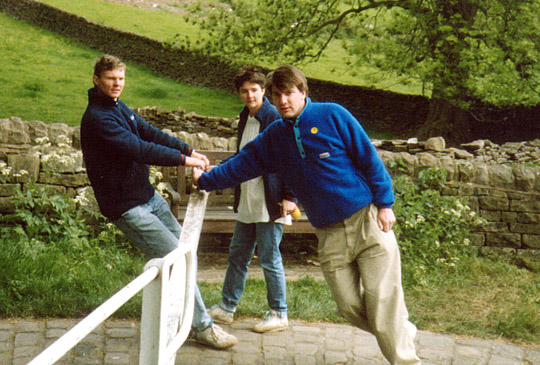 Dave, Belinda and Laurence open a swing bridge
The canal at Skipton is a rareity as you can go for about 16 miles without encountering a lock, so on a day hire they don't give you a lock gate key… still plenty of swing bridges to open, and close again though
At the beginning we were pulling the barge into the bank and stopping so that the bridge openers could get off the boat, but as the day went on and the ales went down it sort of got a bit out of hand, first just alighting from a moving barge, then leaping from the roof of the barge… and eventually it became a competition to get onto the towpath first by taking a running jump from the roof with the barge still travelling down the middle of the canal… Of course someone was eventually going to fall in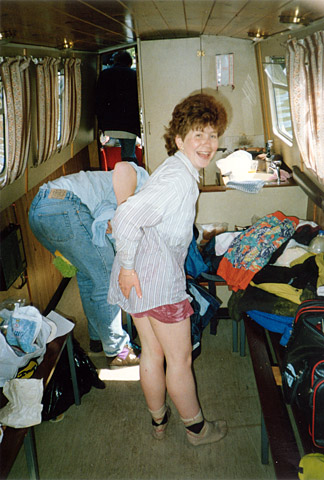 Browny helps the Cell change her clothes after he had pulled her from the canal
after she had fallen in… the rest of us should have helped, but were too busy laughing