Home » Wharfedale Plus
Gazza Speed's Babies
I've mentioned Nicholson House before, the former headquarters of the 18 Plus Federation in Newent, Gloucester.
For several years we used to go down and stay there, here's a few pictures recording the antics of our 1992 trip.
At Nich house there was a large bedroom holding 7 beds and smaller rooms with 4, 3 and 2 beds. Usually when we went the boys occupied the larger room and the girls (and couples) the smaller rooms. in 1992 though this was switched round and the girls had the large room… This is important to mention because I want to tell people of the shrine Malibu Mel created on the radiator next to her bed. You see Mel is a Leeds United fan, so she went to Nicholson House armed with team posters and photographs of her favourite players, and stood the pictures up on the radiator and stuck the poster to the wall. Her favourite two players, the ones the shrine was too, were David Batty, and her top man, Gary Speed… in 1992 Malibu Mel wanted to have Gazza Speed's babies !
Anyway, on with the pictures.
I don't quite remember the order that things happened. but on one day we went to Bath, via Bristol, at least myself and then girlfriend Wendy did, the pictures I have of Bath have nobody in them and I only know we went via Bristol from this picture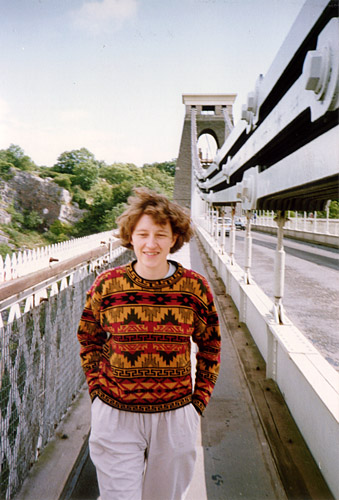 Wendy-woo on the Clifton Gorge Suspension bridge in Bristol
On the other day we were there a small group of us went to the National garden Festival, which that year was held on the site of the old steel works at Ebbw Vale… I remember it wasn't a very bright day, and being fairly early on in the year the gardens were not really at their best, so it was really a day of examining Welsh culture and aspiration rather than looking at pretty flowers.
However, it did rain at one point in the afternoon, and as Andy Animal and Nellie the Pump hadn't brought their coats we all were highly amused when the kiosks sold them rain poncho's, which were little more than bin liners with a hole cut in them to stick your head through, and as such were very much in the Waffledale fashion of the time.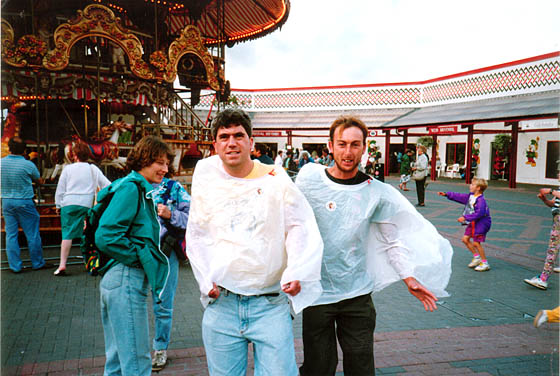 A kagoule clad Wendy-woo looks on as Animal and the Pump pose in their Garden Festival bin liners
(which as I remember it were some horrendous price like £2 each… for a large plastic bag, I'd moan about paying that price now, let alone 17 years ago !)
The evenings at Nich House were usually spent in a state of drunken abandonment, which as seen from the picture below involved a fair bit of drinking in the building both before and after going to the local pubs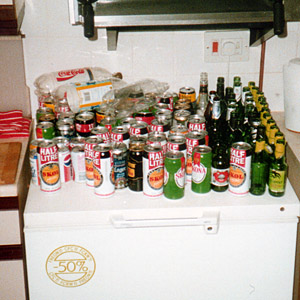 Of course after drinking alcohol The Git became a manic Blue Peter presenter and demonstrated how to turn everyday household items into the latest catwalk fashion… Recycled is the new black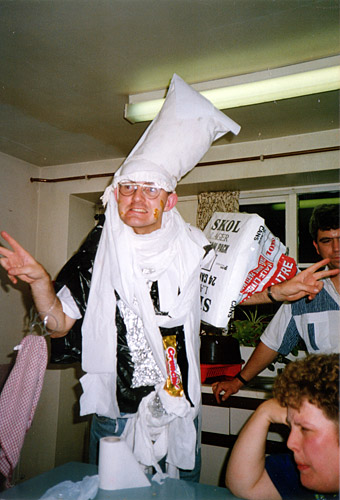 Take a bin liner, some tin foil, a large jiffy bag and a kitchen roll…
mix in various bits of recycled packaging… and you get The Git's new clothes, not sure that Andy Animal or Sherry are too impressed !
(though maybe that's just due to the curry sauce The Git daubed on his face as warpaint !)
When you've had a big meal and a few drinks and it's getting late then you want to settle down to sleep… well maybe you do if you are lightweights who can't party all night !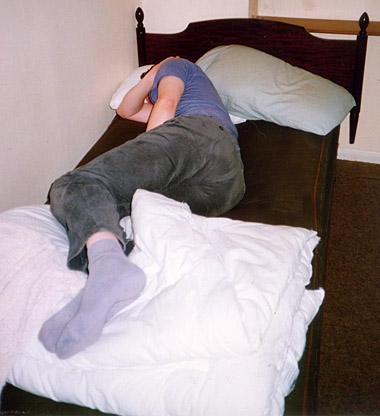 Nelly having a nap, cos the excitement was just too much for him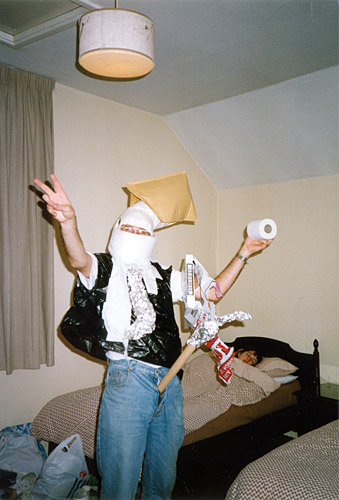 Nelly was not the only one, here we see The Fish fast asleep in bed despite The Git's attentions
Of course The Git was not alone in getting dressed up in the recycled fashion…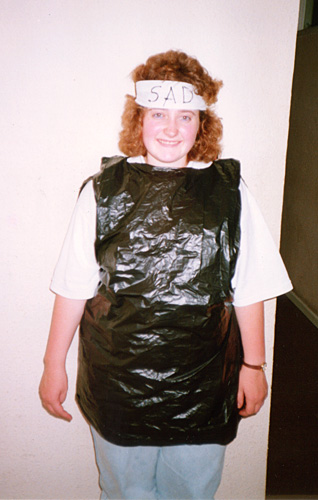 Malibu Mel, in her second headband…
The first had SAD written on backwards so she could read it in the mirror !
There was a lot of protestation from her that she wasn't really sad,
but Mel, the shrine to Gazza Speed really said that you were.