Home » Wharfedale Plus
Airbeds, Car 'Washing' and Crazy Golf
For some reason almost all the Waffledale group were, if not keen, then at least willing to go camping.  Which was good cos there were a lot of camping events to go to… this particular one was called NAG (Not Another Gathering) and took the place of JAC in the Plus calendar for a few years.
NAG 1992 was held at Market Rasen racecourse… and I can't actually remember that much about it because I did spend most of the weekend in an alcoholic daze (I do remember that much !)
So I'll recount what I do remember.
I remember that I got there quite early and got the tent up, and then got drunk. I remember Gran had a new tent and I almost destroyed it by falling onto it, but managed not to do too much damage. I remember Nelly and Sherry had a new frame tent that they had bought and were very proud of… until the time came for them to put it up… when it took an inordinately long time… over an hour… with Nelly's cursing getting worse and worse as the time went on… Then there was the saga of the airbed. To go with the tent they had purchased a new double airbed… however on removing it from the packaging they found it was only a single airbed, which wasn't too much of an issue as they would be able to take it back for a refund provided it was kept in pristine condition…. but instead of putting it away they lent it to Zippy… I'll come back to that later…
Friday evening was spent in general drunken debauchery in the bar, I seem to remember some type of barn dance occuring (though that may not have actually been this first night). Eventually though, the bar shut and we had to return to our tents… Now I'm not sure why, but Zippy's car was found to be in the wrong place… and without its handbrake on so it was moved… without Zippy's knowledge of course… (but then, where Zippy was concerned she could have watched us moving it and still have no knowledge of it !)… it then transpired that moving the car took people too far away from the campsite facilities…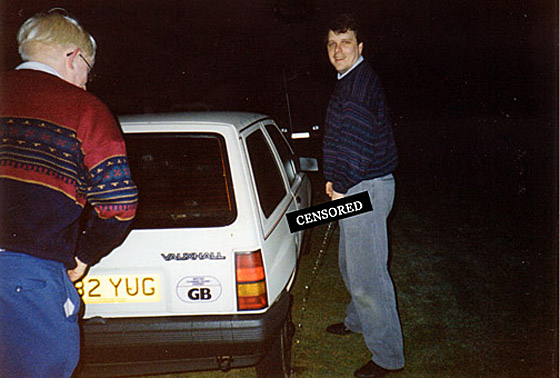 There was probably some good reason for this…
other than the fact that we were all very drunk…
The next morning we awoke to find that it had poured down with rain that night… torrential rain that washed Zippy's car clean but also caused a sight flooding of the lower lying areas of the campsite, which happened to be exactly where Zippy had put up her tent.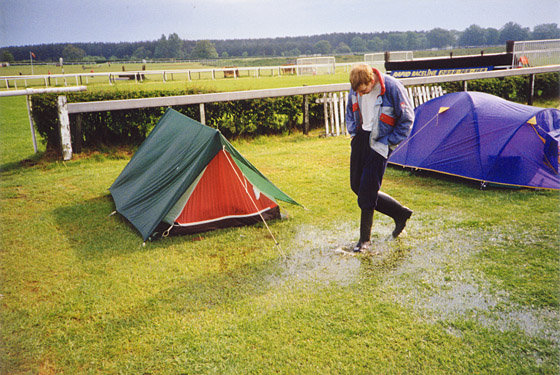 Thornbush with his wellies on, having a paddle
Meanwhile… back to the airbed. Zippy was not alone in her tent as at the time she was having a brief fling with yet another Dave… this one from Kidderminster (and 17 years later he is probably reading this – Hi Dave !) after drinking far too much one of them had been particularly ill in the night, inside the tent on the airbed, and although it had been wiped down it was no longer in the pristine condition it needed to be to be returned to the shop… however Zippy and Dave had passed out and from their positions on top of the airbeds had not actually realised that the tent was an inch or so deep in water and all their stuff was a bit damp. This didn't improve the condition of the airbed !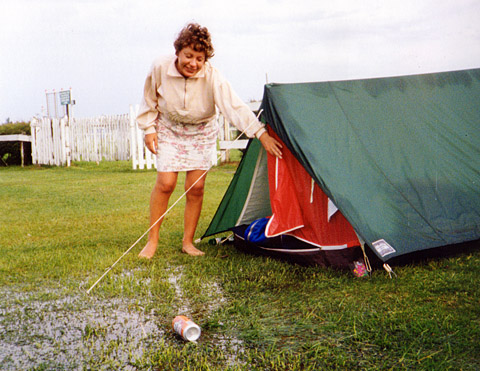 Zippy examines the pool outside her tent
The can had been floating freely on the water about an hour earlier
Later in the day, for some strange reason, we decided to go to the seaside, to Skegness, which isn't the most exciting resort in England, but it was sunny and we were on holiday so we went and did seasidey things like eating fish and chips and dodging seagulls… and playing on the fairground…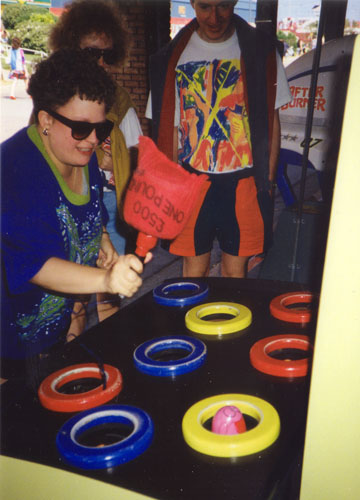 Sherry… showing a vicious streak at 'Bashing the Rat'
and playing on the crazy golf course (a fact unknown to the other players from Waffledale at the time was that the people playing their round in front of us were actually my Mothers cousin (who she was brought up with) and her husband, I did chat to them a bit as we went round and after we had finished, but I doubt anyone thought anything of it other than me just being friendly – it was a totally random meeting, they live in Boston and had come up to Skegness for the day and I was the last person they expected to meet and vice versa !)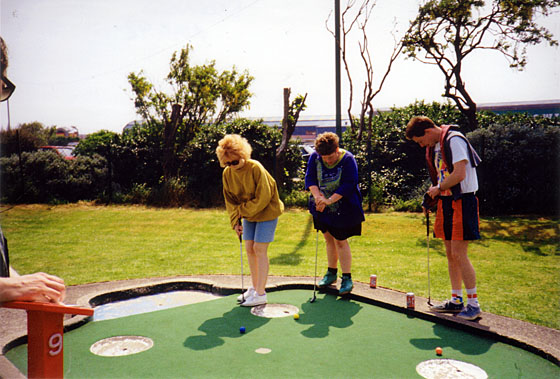 Taz, Sherry and Hubert on the Crazy Golf course
After our time by the sea we went back to the campsite and then to the bar for another evening similar to Friday night… though I don't think there was quite the silliness ! I don't remember much about Sunday at all, just odd flashes about sitting around in the sun having a laugh and joke with people… I remember Thornbush trying to get people interested in having a round of golf on the course next door, but none of us had clubs and they didn't have any they could lend us… I also remember sitting up in the horse racing grandstand for some reason, and Nookie having a shower and changing his clothes (which sounds ordinary but was a rareity for Nookie when we were camping… however there was a young lady involved (who I have to be nice about cos she will probably be reading this too !))
Sunday evening it was back to the bar for more of the same, another evening of drinking, dancing and lewd behaviour.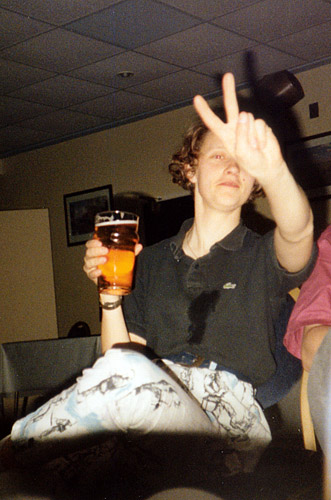 Wendy-woo doing the drinking..
and giving the V for Victor sign to show how mature she is
it would help if she hadn't spilled her pint down her shirt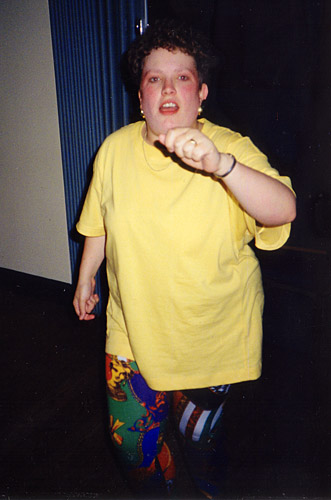 Sherry… doing the dancing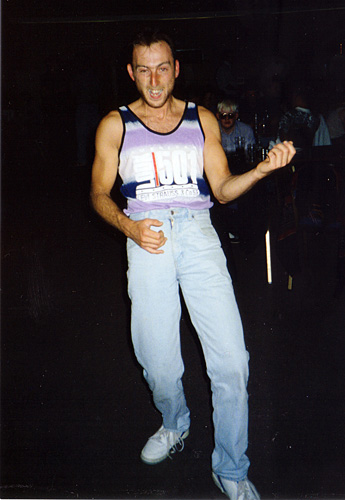 And Nelly the Pump on air guitar
(is that lewd behaviour ?)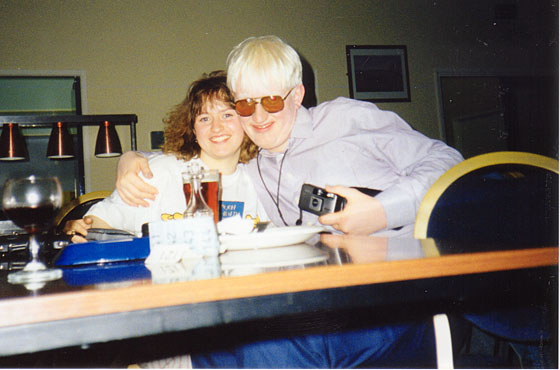 Nookie pulled… okay, so it was cradle snatching with a 17 year old
(but actually Elaine doesn't look that much different now she's double that age)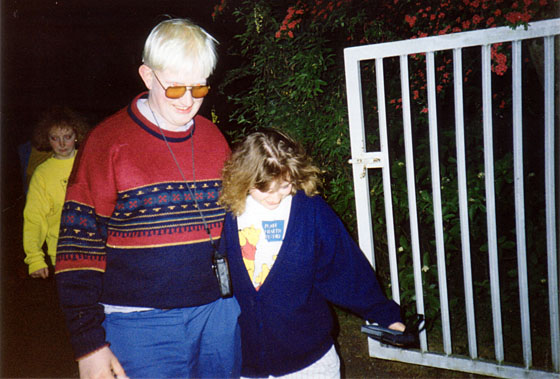 But he did get to escort her back to her tent… for some lewd behaviour maybe ?
alas no, she wasn't 'that' drunk ! (not that she's that sort of girl either)