Home » WASH
WASH 2003
The 20th WASH saw the return of the film show at the Princess Theatre, even though it was a film that many people had already seen it got a good crowd… the Theatre had been renovated since we'd used it last with a new entrance, and new gents toilets that are much safer to queue for as they aren't down so many steps.
In Hunstanton the pier had been rebuilt, though actually 'pier' is a bit of a misnomer as it doesn't go out into the sea, in fact it doesn't even go as far as the edge of the sea wall… not that it did before either !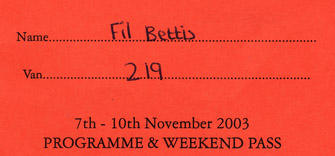 What they said…
So what about WASH? Well, it was a great holiday The heating in the caravans worked, the beds were cosy (for some a bit small), there were great events for everyone !
On Friday there were two great bands in the evening (Kuda and The Floating Greyhounds) On Saturday you could participate in aqua-aerobics, karaoke, laser clay shooting and of course the big quiz the afternoon (we came 12th out of 30, thanks to Breakfast Homer). In the evening the Wississippi Jazzman gave us a nice piece of music to listen to and we kind missed out on the dance session (we were getting dressed for the Pyjama Party).

The Steve Ferringo Band was extremely weird, but a extremely great! 5 steps Abba was good at dancing and changing outfits, but (in our opinion) could not sing (it kind of did hurt our sensitive ears).

On Sunday there was 5-a-side-football, a fantastic comedy show and a cinema showing of Pirates of the Carribean (still deeply impressed with Johnny Depp and Legolas). The band East of Java was giving an excellent performance in the evening and 2Unlimited… well.. we were glad it was short and less glad it was painful.

We shared our caravan with Ben (who kind of escaped to a better place: caravan 210? and Andrew, who decided to become member at So'ton Friends after spending a weekend with us (quite remarkable!)

We would like to thank Keith, Dawn, Paul, Sherrie and Lynne for organising WASH 2003. It was amazing and will be back next year!!!

Soton Friends – Plus News Spring 2004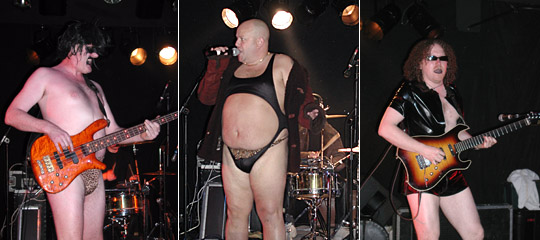 The Steve Ferringo Band – weird ?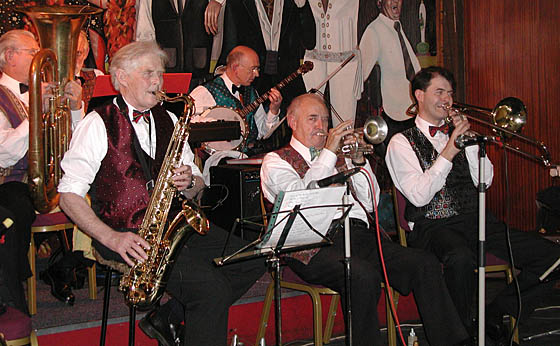 The Wississippi Jazzmen – wierder ?
What they said…
WASH – what a wonderful weekend it was

Need i say more – steve ferrengo band – good voices, oh and looked good too. '5 steps to Abba' good entertainment, East of java, excellent musicians, The Floating greyhounds, good but mix was not quite right, i thought, vocals were drowned out a bit too much, otherwise, overall brilliant weekend

well done to the committee, can't wait for next year 5-8 for the 21st WASH.

suppose i will have to.

kathy Solihull Plus – Email Forum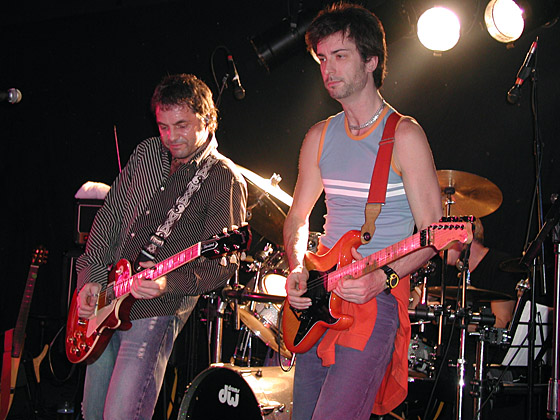 East Of Java – Rocked the venue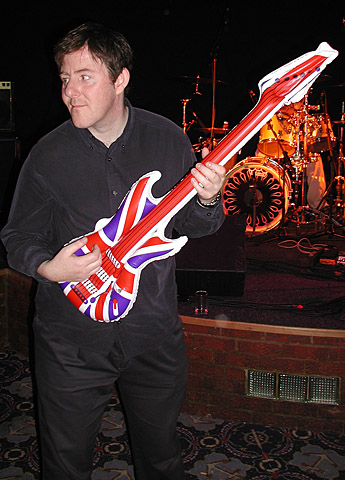 Martin is a big fan and wants to be part of the group…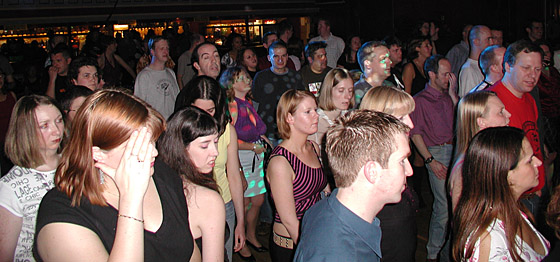 … and play his guitar in front of the watching crowd
What they said…
WASH – a case of too much and not enough…

That's too much enjoyment and not enough sleep of course ! !

For those who didn't go, this year was definitely one of the top WASH's of the last 19 years…
The bands were great, the comedians top quality, the film noisy enough to keep us awake ! the parties full and raucous and the chips and curry sauce just what you need after a dance and a drink… there's not really much you can do to improve WASH except perhaps make it longer ! !

Oh and the aqua-aerobics… all those girls bouncing up and down in their swimsuits… worth getting up for ! !

Thanks Keith, Paul, Dawn, Sherrie and Lynne… WASH 2003 was great

nice to see some of the old faces there again as guests as well

Fil – email forum
(me again !)

It's amazing what you see
if you hang around outside the ladies toilets long enough

Helen – jammed into the Yellow Submarine
and finding you can't get out while it's moving, and it never stops if someone keeps feeding it 20p's !
What the Committee said…
Thank You

Hi All

On behalf of Keith, Dawn, Sherrie, Lynne and myself can I say a huge 'Thank You' to all 410 of you who made WASH such a spectacular success. It was great to see so many people returning for the first time in a year or two. It was quite overwhelming the sheer number of people who thanked us for the weekend, believe me the pleasure is ours.

All we ask is that you come back next year, and if there were people in your group who didn't come, tell them how good it was, because next year is the 21st anniversary and we have BIG plans.

It was very strange coming home this morning, because I instinctively checked the post and the answerphone for WASH messages because that's all I have done for the past 4 months. At least we can eat tea in the dining room because for the past 2 weeks it has been WASH HQ.

Let us know what you thought, good bad or ugly!

Paul, WASH 2003 Bookings Officer – email forum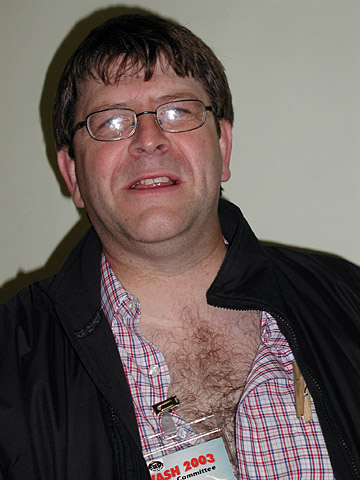 The Israelite… finds it's raining outside
Click to go to
Previous Year 2002
Next Year 2004