Home » Geocaching
Caches No's 4923 to 4947 – A Cunning Plan
In 2018 I found 188 caches, I had already reached this figure at Piratemania and having done 50 lab caches at Aberdeen my cache count had gone up considerably.
At Aberdeen Zoe had got to her 8000 milestone and I was discussing with her and Sam that I had less than 100 caches to go my next milestone, my 5000th cache, by the time I had got home and logged all the caches I had done I had got to 4922, so had only 78 to go.
We discussed that with a bit of effort I would be able to get to my 5000th at the Geocoinfest in Manchester in 4 weeks time, just needed 20 caches a week and I would get there – So I came up with a cunning plan to do just that.
19th August 2019 – WS#3: Marvellous Moss! GC85TM4 – cache #4923
The first part of the plan was to carry on doing caches round Ilkley and between Ilkley and home after work.
So on Monday I stopped off for a few more of these caches along the riverbank, this was an easy find as I was exactly at the right part of the wall
19th August 2019 – WS#2: Swamp Chicken GC85TM2 – cache #4924
It was a bit of a swamp in places along the path – but I saw no chickens.
Easy to spot the cache with the information in the hint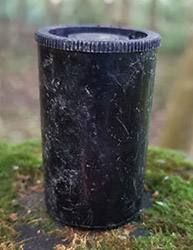 19th August 2019 – Wharfeside Stroll #1: Mighty Fagus GC85YKH – cache #4925
Not particularly nice down here as someone, presumably the builders of the new phone mast have bulldozed a load of mud and rubble and rubbish along the path of what was a stream… so it is soggy and muddy and has trip hazards sticking out of it…
But I negotiated all that and got to the banking where the mighty Fagus is, and soon found the cache once I had moved the annoying Ilex branch out of the way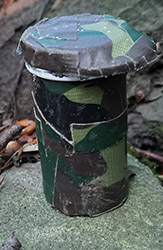 19th August 2019 – WS#7: Acrobatic Multivocalist GC85TMD – cache #4926
Quick and Easy find… the lay-by here always seems to have cars in it, it's a popular stretch of river for dog walking which means you have to be quick between them to get the cache unobserved
19th August 2019 – WB #4: Tufted Duck GC85T9R – cache #4927
Gave up on the attempt to get to the cache along the river bank and resorted to using the roadside footpath and climbing over the fence (not something I like doing to get a cache, but in this case it seemed the only reasonable way)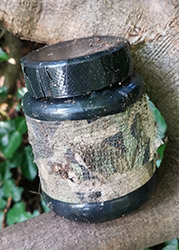 20th August 2019 – WRW #12C: Oystercatcher GC85T68 – cache #4928
Next day after sitting in my office chair all day I needed a walk, so I went west along the river from Ilkley to find some of the caches in this series that I haven't yet found.
This one was easy thanks to the prescriptive hint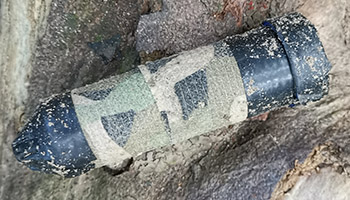 20th August 2019 – WRW #12B: Broken but Unboughed! GC85RW2 – cache #4929
A bit of undergrowth to get through to get to the cache – obviously not been found much lately as there's no cachers trail 😉
20th August 2019 – WRW #12A: (Previously!) Funny Gate GC7EJ80 – cache #4930
This was a kissing gate without a fence, so was totally unused, but now the fence has been built so it's presence is not so funny anymore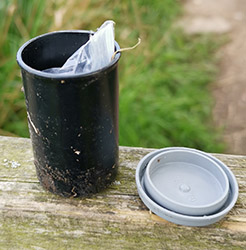 20th August 2019 – WRW #10: Old Stone Bridge Multi GC7CXPP – cache #4931
I can't be bothered with all this criss-crossing the bridge to find the numbers for the multicache coordinates… so I had to rely on the hint, local knowledge – and a picture of a man holding the cache to show me where the cache is – an easy find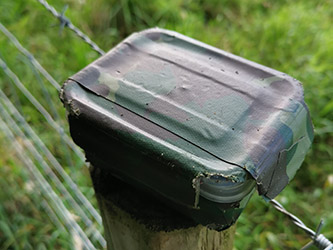 20th August 2019 – WRW #9: Rest Zone GC7CXPF – cache #4932
Had me confused at first as the cache had migrated to the wrong end of the bench… So after signing I replaced it as the hint says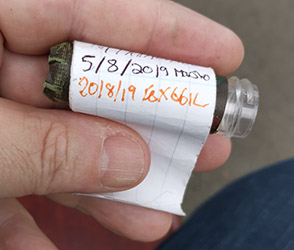 After this I didn't find GC7CXNJ WRW #8: Riverside Park – Spot The Shyness! it wasn't in the obvious place or anywhere else I could find
21st August 2019 – Wharfe River Walk #1: Denton Road Bridge PnG GC7CQ92 – cache #4933
Another day another few caches, I popped down to the river near work for this one – I had looked for this one before a few weeks ago but it was missing, but it was an easy find today as it had been replaced
21st August 2019 – WRW #7: Bench Zone Multi GC7CXPF – cache #4934
I was walking along the south side of the river into town, so it was easy to do this cache…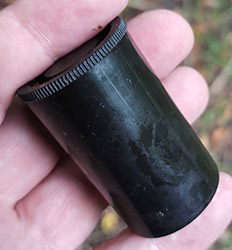 21st August 2019 – Ilkley Ripples….. GC7RB4E – cache #4935
I spent 2.5 years walking along this path twice a day to get from where I parked at the Bridge to our showroom the other side of the Church… that was long enough ago for me to know which building the Fish & Chip Shop mentioned in the description was.
Anyway today I was in the area so decided I would look at the stones and do this Earthcache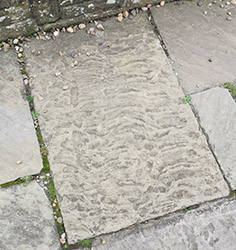 21st August 2019 – WRW #6: Ilkley Suspension Bridge GC7CXNB – cache #4936
Took me much longer to find than it should have… I spent ages looking and feeling for the cache in every corner and nook and cranny… when I was stood next to it all the time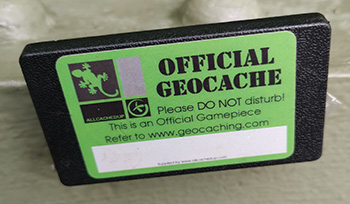 22nd August 2019 – Ilkley Historical Multi #1: East GC88XNM – cache #4937
Easy enough lunchtime find, however the top of the film pot had come off and it was home to slugs and worms and the log was too wet to sign, so I emptied out all the livestock and replaced with the lid in place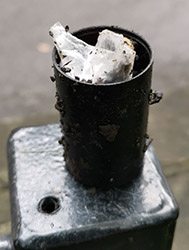 22nd August 2019 – Ilkley Historical Multi #2: West GC8B7QK – cache #4938
Couldn't get my sums right and get a 'correct' on the checker but I was confident enough that my figures were pointing me in a very suitable direction… and from there I just walked along until I found something that matched the hint and there was the cache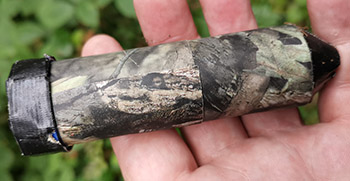 22nd August 2019 – Ilkley Fossils…. GC89ZBB – cache #4939
I had several multi's and Earthcache's to clear in Ilkley town centre, so I set too and cleared them all.
I did get a few funny looks at this one and at the church as there was some sort of evangelical event going on and there were minibus loads of people going into the church and I was asked a couple of times whether I was coming in as I seemed to be hovering outside the church !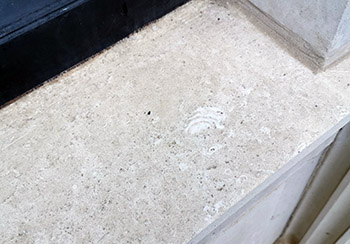 22nd August 2019 – The Faces of Ilkley….. GC7RECF – cache #4940
Another earthcache that became a smiley face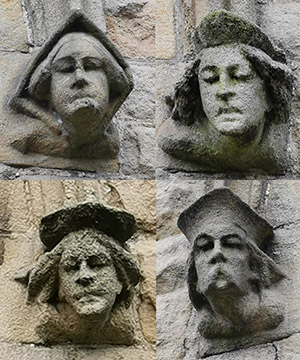 22nd August 2019 – The Offcumden….. GC7REDP – cache #4941
A Two for One deal at the War Memorial… gather the info for the Earthcache and the Multi at the same time, though I had no time to go hunting for the multi tonight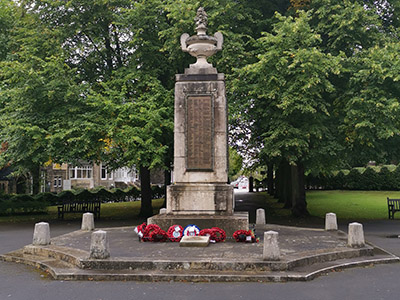 23rd August 2019 – Church Micro 12753 . . . Ilkley – Christchurch GC88XNF – cache #4942
I got the answers as I was on the grove yesterday evening –
Did the sums and got the cache coordinates – straight to the cache tonight
23rd August 2019 – Church Micro 12752 . . . Ilkley – All Saints GC88XN4 – cache #4943
A quick find after a walk around the outside of the church
I used to work on Church Street and I never knew the place where the cache was hidden was there, even though I must have walked past many times (though to be fair walking to and from work I generally have my eyes shut !)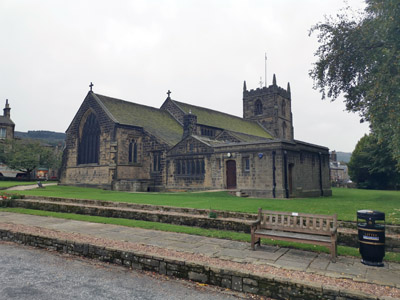 23rd August 2019 – AR_Roman Ilkley GC7TME8 – cache #4944
I got the coordinates from the AR easily enough and found the area in which the cache was hidden… but couldn't find a cache. The hint wasn't much help as it described a lot of places within the margin of error on the GPS
The CO allowed me to claim this as a find even though I found nothing
23rd August 2019 – War Memorial #831 ~ Ilkley G8BBGZC – cache #4945
I had gathered the information the previous evening, but there wereanomalies and I to guess a couple of the numbers, but eventually got the checker to say 'Yes' and from that finding the cache was easy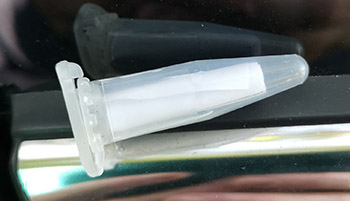 23rd August 2019 – Panorama Wood #3: Search the Birch GC804B7 – cache #4946
Several fallen birch trees to hunt around, but I found it on the second attempt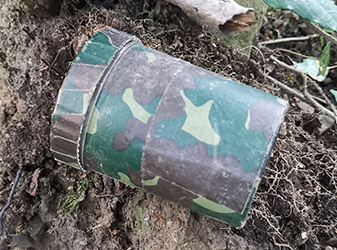 23rd August 2019 – Hendrix in Ilkley??!! GC79T71 – cache #4947
Yep, Jimi Hendrix did play a gig in Ilkley in March 1967 right at the beginning of his fame.
The last of my cache finds today – obvious where it was hidden as the area is kept so neat there is only one possible place for a cache to be !